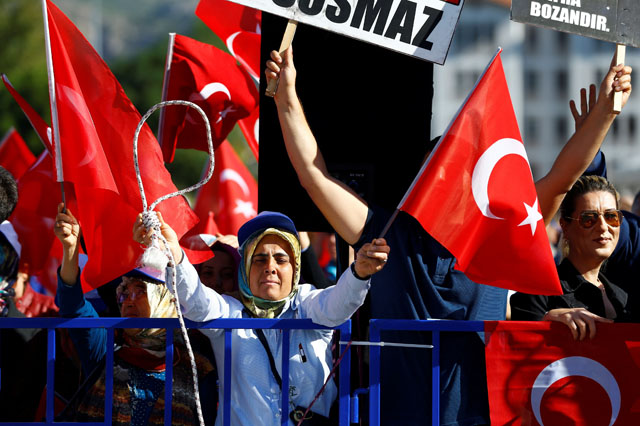 ---
ISTANBUL: A Turkish court on Wednesday handed life sentences to 34 people convicted of plotting to assassinate President Recep Tayyip Erdogan at a luxury Aegean hotel during last year's failed coup.

The defendants, who include senior military officers, were each given four life sentences at the trial in the southwestern city of Mugla, state-run media said.

They include former brigadier general Gokhan Sahin Sonmezates who was accused of directing the plot. Former elite commando Zekeriya Kuzu, who was famously found hiding in a cave four days after the failed coup, also received a life term.

Another key figure in the trial, Erdogan's former military aide-de-camp Ali Yazici, was sentenced to 18 years in jail. Just one suspect, former lieutenant colonel Huseyin Yilmaz, was acquitted.

Almost 500 to face judges in Turkey's biggest coup trial

The number of sentences for a total of 47 suspects may yet go up as the verdict is read out.

The trial began on February 20 and is one of many such processes taking place across Turkey to try those who allegedly took part in the failed bid to oust Erdogan on July 15, 2016.

Some verdicts have already been handed out in lower-profile cases but it is the first ruling involving alleged top plotters.

The failed coup left 249 people dead, not including the putschists, and the authorities have vowed no compromise in bringing those involved to justice.

Over 50,000 people have been arrested under the state of emergency imposed following the coup bid during a heavily criticised crackdown which has raised fears over Turkey's justice system in the West.

German woman on trial in Turkey over failed coup

Turkey accuses Pennsylvania-based Muslim cleric Fethullah Gulen of orchestrating the attempted coup. Gulen, a former Erdogan ally turned arch-foe, strongly denies Ankara's claims.

Some of the suspects, including Sonmezates, admitted taking part in the coup bid during the trial but denied any links to Gulen.

Gulen was also on trial in absentia in Mugla. But the judge ruled to separate his case from the trial along with two other suspects.

Erdogan has said the assassination plot left him minutes from death after he fled the Grand Yazici Hotel in Marmaris, where he had been holidaying with his family, and went back to Istanbul by plane.

"If I had stayed 10 or 15 additional minutes there, I would have been killed or I would have been taken," Erdogan told CNN in an interview just days after the coup.

But some commentators have cast doubt on whether the president was in such immediate danger as the "assassination team" only arrived at the hotel well after he had left.

First journalists go on trial over Turkey coup bid

According to the parliamentary commission that investigated the coup plot, a 34-man team of putschists arrived at Erdogan's hotel at 3:20am (0020 GMT). But Erdogan had already landed in Istanbul at 3:40am (0040 GMT).

Some Erdogan supporters had called for the plotters to face the death penalty, which Turkey abolished in 2004 as part of its bid to join the European Union.

At least 200 people outside the court waving Turkish flags shouted "we want the death penalty" and "we want justice", as they called for Gulen to be extradited to Turkey to be tried.
COMMENTS
Comments are moderated and generally will be posted if they are on-topic and not abusive.
For more information, please see our Comments FAQ