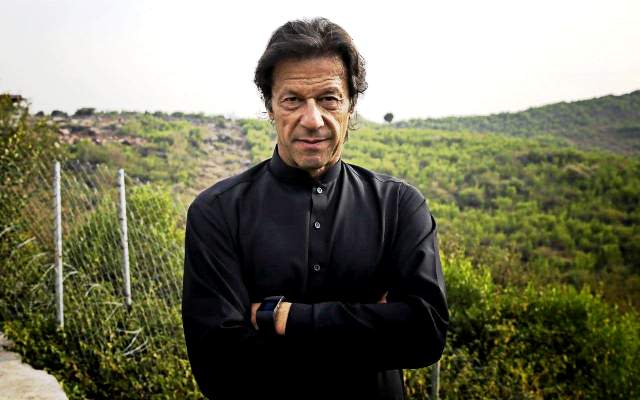 ---
In a recent interview, chairman of Pakistan Tehreek-e-Insaf Imran Khan has criticised the US' new strategy for Afghanistan and has stated that the US should negotiate with the Taliban instead of "aiming to destroy it", reported The Telegraph.

Lahore by-poll will prove that the nation stands with judiciary: Imran Khan

The interview, conducted by the Associated Press, quotes Imran saying, "More fighting and bloodshed is not the answer, I said it 17-years-ago and I am still saying this now." Imran also rejected Trump's allegation that Pakistan harbours extremists and terrorists, and stated that he "felt hurt" when the president blamed Pakistan in August.

Imran insisted that the Taliban have safe havens in Afghanistan and that Pakistan is being subjected to the group's attacks launched from the Afghan soil. He stated that it was unfair of Washington to blame Islamabad for not defeating the Taliban.

"I think Donald Trump's policy is deeply flawed," Imran said, rejecting the US's demand that Pakistan do more to combat the extremists. "I think Pakistan has done enough. I think now the others players involved need to do more," he said. He also voiced his opposition to the US's drone strikes on Pakistan, which he said were carried out "with the complicity of the government of Pakistan."

He said that if he comes to power, he would "clearly tell the United States that this is not a way to win the war on terror," and that the drone strikes were "actually flaming anti-American feelings in Pakistan. Drone attacks lead to collateral damage. If (they) were such a successful strategy, they would be winning the war."

Imran added that militants often retaliate after drone strikes by targeting civilians and security forces in Pakistan, and went on to criticise India's Prime Minister Narendra Modi for the strained relations between Islamabad and New Delhi, saying Modi had not "risen above his communal thinking."

Mehdi accuses Imran Khan of being involved in match-fixing during cricketing years

The PTI chairman also dismissed western 'propaganda' that Pakistan's nuclear arsenal could fall into the hands of militants, and said Pakistan's army was properly safeguarding the country's nuclear arsenals. He also added that he thinks deposed PM Nawaz Sharif had no "future in the country's politics".

Imran also said he would not pardon any corrupt figures if his countrymen voted him to power in the 2018 elections.

This story originally appeared on The Telegraph.
COMMENTS (2)
Comments are moderated and generally will be posted if they are on-topic and not abusive.
For more information, please see our Comments FAQ