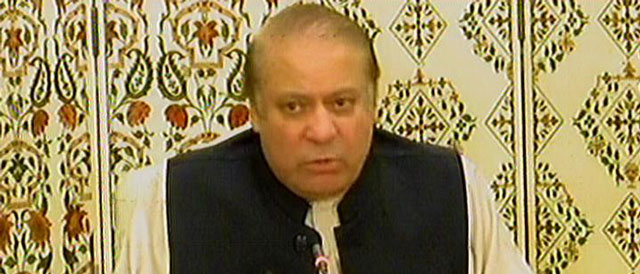 ---
[fbvideo link="https://www.facebook.com/etribune/videos/2025380907478925/"][/fbvideo]

Hours after appearing before an accountability court, deposed prime minister Nawaz Sharif on Tuesday critcised the Supreme Court of Pakistan (SC) for disqualifying him from office over "non-declaration of assets" in its July 28 verdict in the Panama Papers case.

"Court suspiciously formed a joint investigation team and announced a verdict. It [court] then ordered the National Accountability Bureau to break its regulations and file reference against me," Nawaz told reporters at Punjab House, Islamabad.

Accompanied by key Pakistan Muslim League-Nawaz (PML-N) leaders, Nawaz said the same court had taken over the anti-graft buster and will most likely listen to the "final appeal against me".

Claiming that charges of alleged corruption were not proved against him in the court of law, the ex-premier said he stood by the law but was still disqualified. "Such decisions are implemented but no one accepts them. I was disqualified on a false pretext of iqama [work permit] because they could not prove charges relating to the Panama Papers," he said.

Nawaz Sharif briefly appears before NAB accountability court

On July 28, a five-member bench of the apex court had disqualified Nawaz from the PM's office for failing to declare a salary, which he had not withdrawn as an executive of Dubai-based company, as an asset when filing his nomination papers in 2013.

In line with verdict, NAB also filed four corruption references against the ruling family and Finance Minister Ishaq Dar in Islamabad's accountability court earlier this month.

The PML-N chief said his party's victory in 2018 general elections will eliminate all other court verdicts. "I will put it plain and simple [words]; let this country run as per the Constitution and let the 200 million people make decisions of qualification and disqualification of their leaders."

Nawaz returned to Pakistan on Monday after spending more than three weeks in London and went straight into several consultation sessions with party leaders about his future plans.
COMMENTS (7)
Comments are moderated and generally will be posted if they are on-topic and not abusive.
For more information, please see our Comments FAQ