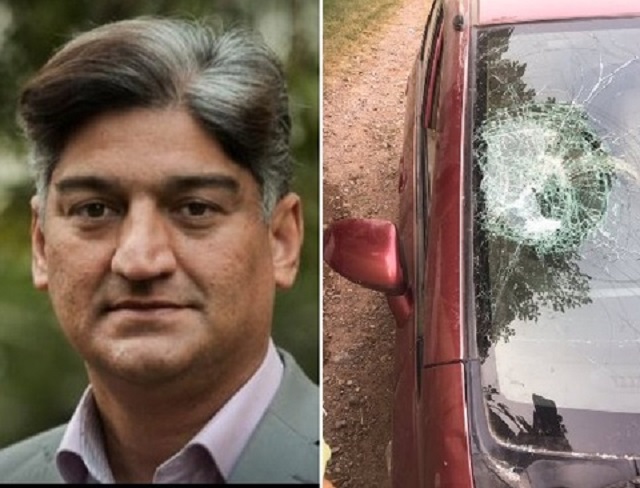 ---
ISLAMABAD: Senior journalist and TV show host Matiullah Jan was attacked in Islamabad on Sunday, however, he remained unhurt.

Matiullah was travelling to Bhara Kahu from Islamabad with his children in the afternoon when two motorcyclists coming from the opposite side of the road threw a rock and smashed the windscreen of car.

Talking to The Express Tribune, Matiullah said the rider was wearing a helmet and the person sitting behind him threw a brick-like piece of concrete at the car.

The incident took place near Phulgran. Matiullah turned the car around and tried to chase the two motorcyclists but they fled. He said it was a pre-planned attack.


Matiullah said the possibility that he was attacked by the vested interests hurt by his journalism and social media activism could not be ruled out. He said an attack on a journalist does not affect him or herself only, rather the whole society is affected. "To gag a journalist is to gag a society," he remarked.

Matiullah said this was the second time he had been attacked by unknown men. A few years ago, he said he was chased by another car at night and his windscreen was smashed in a similar way. Those days, he said, he was working on a story along with another journalist who had also been attacked in the same fashion around the same time.




An application against unknown attackers had been submitted to Bhara Kahu police but an FIR was yet to be registered when this story was filed on Sunday evening. Bhara Kahu SHO inspector Malik Bashir said the police were looking into the incident and a case would be registered soon.
COMMENTS (2)
Comments are moderated and generally will be posted if they are on-topic and not abusive.
For more information, please see our Comments FAQ