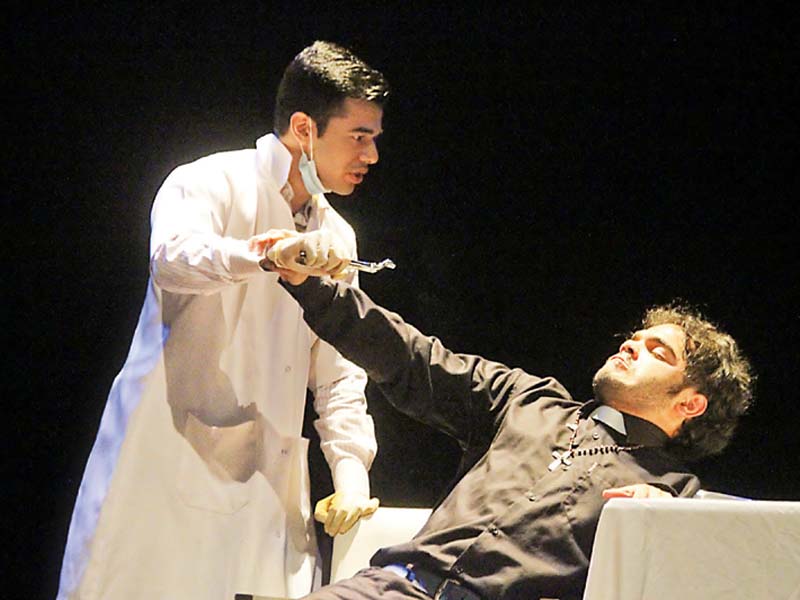 ---
LAHORE: A fresh play titled The Good Doctor by the Lahore Amateur Theatre Zealots (LATZ) depicts stream of consciousness of a writer by using 'Method Acting' as a technique of theatre.

Directed by Tughral Turaab Ali and produced by Huma Zaman, the play is being performed at the Alhamra Hall on Mall Road, Lahore. It will also be performed on September 23rd and 24th at the same venue.

The production uses satire and humour to criticise different social issues throughout the play. It not only arouses laughter among the audience but also captures their interest and forces them to think.

The two-hour long play begins with a monologue of a struggling writer who creates stories in his stream of consciousness. Though the short stories are not connected with each other, they portray the creation of the writer's mind.

Not only are streams of consciousness of the writer but also that of the characters are presented before the audience. The characters of short stories interact with each other which are depicted through dialogues and the thoughts that come after these interactions are depicted through monologues.

All characters that are either part of the story or that of a scene remain on the stage.




The director says that he has used "method acting" as a technique for this play. He was introduced to this method while studying in France. The method was developed by Lee Strausberg.

According to its definition, method acting is a psycho-physical model in which actors are encouraged to explore the emotional inner lives of their characters and utilise emotional memory to create a realistic performance both verbally and physically.

The actors are advocated not only to utilise memory emotionally but also to immerse fully into the memory, called substitution, and use imagination and physical senses accordingly.

The actors do not play characters so much as become these characters, however temporarily.

Turaab says it is the first time this kind of theatre is being performed in Lahore. There is a risk involved in it due to the complications of method acting and its plot, he adds. However, the actors have been successful in producing it to an admirable level, he says.

One of the many exceptional memories of the play is the use of witty remarks and satire to raise the attention of the audience on social issues. The technique also makes the play light and enthrals the audience.

Published in The Express Tribune, September 24th, 2017.