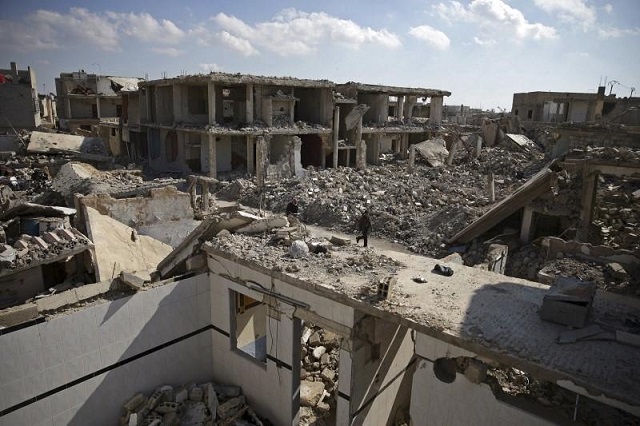 ---
BEIRUT: Israeli strikes hit a weapons depot by Damascus airport overnight, targeting a warehouse belonging to Lebanese militant group Hezbollah, which is allied with the Syrian government, a monitor said Friday.

"Israeli warplanes targeted with rocket fire a weapons depot belonging to Hezbollah near the airport," said Rami Abdel Rahman, director of the Syrian Observatory for Human Rights.

Syrian army says Israel planes strike its positions in Hama province

There was no immediate official confirmation from either Damascus or Israel, but the Jewish state has been accused of carrying out multiple strikes in Syria, including earlier this month. On September 7, the Syrian army said Israeli warplanes hit one of its positions near the central town of Masyaf. The site was reportedly used by Hezbollah forces and those of Iran, another Syrian government ally.

In April, the government accused Israel of firing several missiles at a military position near Damascus airport, triggering a huge explosion. Israel has remained quiet on the accusations, but has repeatedly warned it stands ready to take military action to prevent Hezbollah from obtaining advanced weaponry.

Earlier this month, the Israeli military fired a Patriot missile to bring down what it said was an Iranian-made drone operated by Hezbollah on a reconnaissance mission over the Golan Heights. Israel and Syria are still technically at war, though the armistice line on the Golan Heights had remained largely quiet for decades until civil war erupted in Syria in 2011.

Israel hits Syria site reportedly used for chemical weapons

Israel seized 1,200 square kilometres (460 square miles) of the Golan Heights from Syria in the Six-Day War of 1967 and later annexed it in a move never recognised by the international community. Israel has expressed concern about Iran's growing power in Syria, as well as that of Hezbollah.

Prime Minister Benjamin Netanyahu warned on Tuesday that Israel would fight to prevent an "Iranian curtain" descending on the Middle East.

"We will act to prevent Iran from establishing permanent military bases in Syria for its air, sea and ground forces," he said.
COMMENTS
Comments are moderated and generally will be posted if they are on-topic and not abusive.
For more information, please see our Comments FAQ