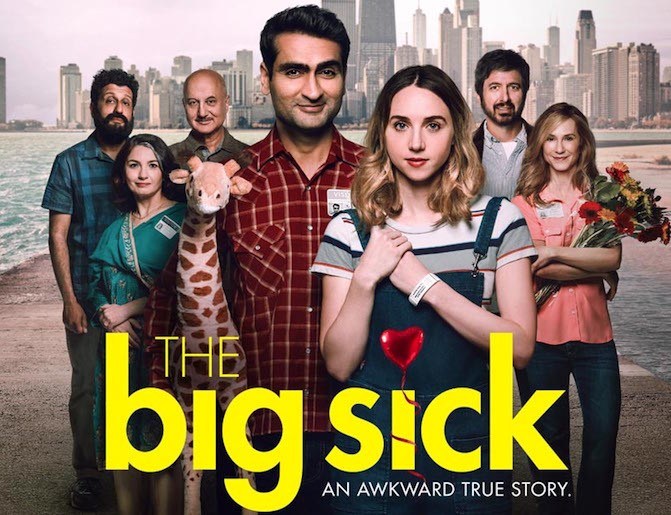 ---
KARACHI: The Big Sick, starring Kumail Nanjiani and Zoe Kazan, is based on the real-life story of Nanjiani and Emily V. Gordon, the co-writer of the film, and revolves around how the Pakistani comedian fell in love with Gordon, a white American and got in trouble with his typical conservative Muslim family. In what may be a spoiler, months into their relationship, the couple breaks up and soon, Gordon falls into a coma. Of course, she comes out of it because the couple is now happily married (in real life).

'Punjab Nahi Jaungi' review: Simply put, it is a Mehwish Hayat film

Despite what many may think, romantic comedy genre has been exhausted to death. It may not even be far-fetched to say it has become so meaningless and dull that it sits on the shelf like that elementary school spelling competition trophy – the one which you don't even glance at anymore. But even after decades of rom-coms projecting clichéd love affairs, every now and then comes a film that explores the genre from fresh eyes and tells a story worth telling. It reminds us that rom-com isn't dead. Like Gordon, it was merely in a coma.




The Big Sick is that kick-out-of-the-coma moment for rom-com. Putting its cross-cultural themes in the fore, it tells a heartfelt story of Nanjiani and Gordon. Nanjiani plays himself, of course, and while his subtle sense of humour and comic timing is a thing of beauty, he shines even more in emotional scenes. Along with Riz Ahmed who recently became the first South Asian man to win an Emmy, I would say Nanjiani is another one whose gentle and good-natured humour will change the perception of Pakistanis around the world.

Kazan as Gordon delivers as well. There is no doubt that she is a wonderful actor with a lot of untapped potential (It makes me wonder she would be right at home in a Noah Baumbach film). Nanjiani and Kazan's on-screen chemistry is perhaps as fluid as the real-life couple's (Don't read too much into it, though).




While the performances deliver, the real MVP is the screenplay. A very simple story is so beautifully crafted that it hits you hard, even without the in-your-face dramatic shtick that most rom-coms employ. The symbiosis and the constant conflict between cultural intricacies are put on display and in fact, feed on each other to move the story forward.

It gets even more interesting for the local audience as the film interestingly tackles the eccentricities of a Pakistani Muslim family. Anupam Kher and Zenobia Shroff as Nanjiani's parents and his family are a constant reminder for the comedian to not get involved with the American culture as to forget his own. The film successfully deals with the fact that your immediate surroundings shape you, no matter what. It also raises the point of family pressure dictating personal and religious beliefs and traditions.




The always-brilliant Holly Hunter and the underrated Ray Romano play Gordon's parents and their chemistry with each other and how their outwardly dynamic characters play off Nanjiani's lesser-confident, indecisive personality is what makes The Big Sick an engaging watch. Their scenes together which make the bulk of the film, (especially where the three are having lunch at the hospital and the topic of 9/11 is raised), are laugh-out-loud funny and yet deeply layered.

Review: 'Simran' presents Kangana Ranaut at her best and worst

The Big Sick may very well be the much-needed CPR for the romantic-comedy genre. It succeeds in telling an intelligent, beautiful and heartfelt with equal parts humor and drama. And it's an important watch for Pakistanis as it is eye-opening and funny at the same time watching the local cultural elements unfold on screen.
Verdict: Get your hands on it, watch it because you don't want to miss this very- real and very-human story of Nanjiani and Gordon.
Rating: 4 out of 5 stars

Have something to add in the story? Share it in the comments below.