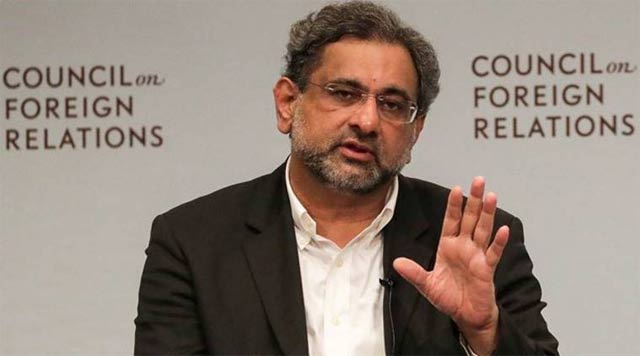 ---
Pakistan has developed short-range nuclear weapons as a counter to the 'Cold Start' military doctrine adopted by Indian armed forces, claimed Prime Minister Shahid Khaqan Abbasi.

Addressing an event organised by the Council on Foreign Relations,  PM Abbasi, who is currently in New York for the UN General Assembly, said, "We [Pakistan] have a very robust and very secure command-and-control system over our strategic nuclear assets, and I think time has proved that it's a process that is very secure.

President Trump changes tack in meeting with Abbasi

"As far as tactical nuclear weapons, we do not have any fielded tactical nuclear weapons. We have developed short-range nuclear weapons as a counter to the Cold Start doctrine that India has developed," he added. Premier Abbasi is scheduled to address the UNGA today.


PM speaking to David Sanger at the Council on Foreign Relations in NY pic.twitter.com/FQhV7sKeUJ

— Maleeha Lodhi (@LodhiMaleeha) September 20, 2017


For a layman, the Cold Start doctrine aims to deny Pakistan justification to resort to its nuclear first-use option by inflicting rapid, fatal and limited attacks. Indian strategists themselves explained in various papers that the plan would be initiated by eight "battle divisions", comprising 30,000 to 50,000 troops, including independent armoured and mechanised brigades. The air force and naval aviation would accompany the land forces in the single or multiples strikes in a limited area till the objectives are achieved "within hours".

On being asked to share his views regarding the ongoing situation at the Line of Control (LoC), PM Abbasi said, "There is Indian aggression along the LoC, mostly to draw attention away from the genuine struggle of the Kashmiri people, who have today risen against the Indian occupation there."

Admitting there has been aggression from India in the recent past, the premier expressed that Pakistan wants "normal relations with India, but on the basis of trust and respect."

US-Pakistan relationship not defined by Afghanistan: PM Abbasi

Dr Shakil Afridi's release

When asked about Dr Shakil Afridi's health and his expected release, PM Abbasi, without giving a definite answer for the latter said, "Dr Afridi is in detention and under trial for violating the laws of the country. And as far as I recall, there's no health issues with him [Dr Afridi]."

PM Abbasi on Pakistan's blasphemy law

Referring to the recent case where a Christian man from Lahore was sentenced to death for a posting of a poem on WhatsApp that was deemed blasphemous, a Human Rights Watch representative asked PM Abbasi if he would speak out against the blasphemy law. Abbasi replied in the negative. "The laws in the country are very clear, and it's only up to the parliament to amend the laws. The job of the government is to make sure that the laws are not abused and innocent people are not prosecuted or prosecuted. So that's my primary job."
COMMENTS (4)
Comments are moderated and generally will be posted if they are on-topic and not abusive.
For more information, please see our Comments FAQ