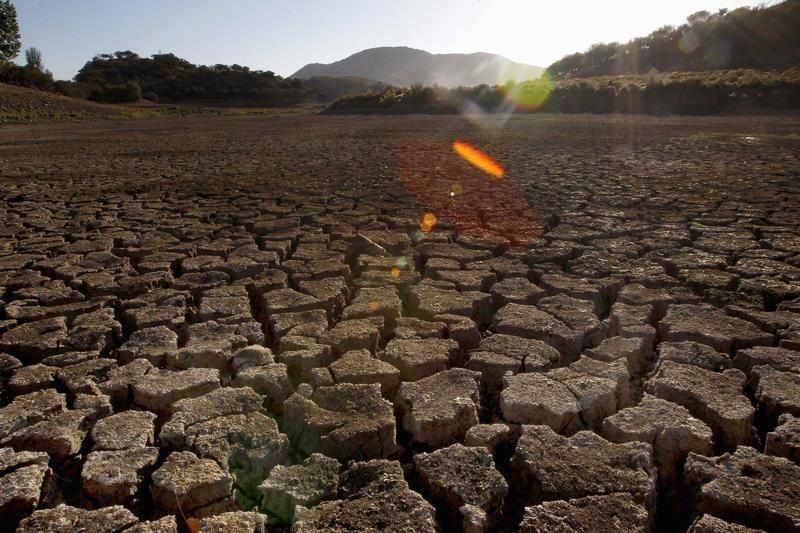 ---
ISLAMABAD: Despite having one of the world's largest glaciers, Pakistan is at risk of water scarcity and is among the 36 most water-stressed countries in the world. Per capita water availability in the country has declined from 5,260 cubic meters in 1951 to below 1,100 cubic meters in 2010.

This is an alarming indicator of falling into the category of water-stressed countries with continuation of the trend ultimately leading to water scarcity.

Factors contributing to increased water demand include rapid increase in population, low water-usage efficiency, an extremely water-intensive economy and poor management of water resources and absence of a national water policy.

Water scarcity feared to affect upcoming crop sowing

As is the case in most countries of the world, Pakistan's agriculture sector is the largest consumer of water and hence, a major cause of water shortage. Resultantly, it is extremely important to devise mechanisms and methods for making crop irrigation more efficient to leave room for domestic and industrial supply.

By 2025, the demand for water is expected to increase up to 274 MAF with the supply remaining constant at 191 MAF, causing a demand-supply gap of 83 MAF.

Pakistan has the world's fourth-highest water-usage rate. Pakistan's economy is the world's most water-intensive economy; which means that the amount of water utilised in cubic metres per unit of GDP is the world's highest, which signifies that productivity/efficiency is the lowest in the world.

As Pakistan uses 93% of its freshwater resources on agriculture; there is a need to improve the efficiency rate which currently stands at 50%. Some studies suggest efficiencies as low as 33%, for canal irrigation. This means that only 33% of the water released into canals reaches from the farm gate.

Water infrastructure and weak project implementation are a few examples of what causes efficiencies to be low.

Despite this situation, Pakistan still has substantial potential of increasing water-usage efficiency. The country can increase productivity of water without increasing water supply. Increasing pressure on irrigation departments by farmers to become accountable and efficient, emergence of progressive farmers, introducing high-value crops and using latest agricultural technologies can greatly increase the efficiency of irrigation-water.

As a nation, we cannot hope for an endless water supply as the best solution. On our part, we need to ensure effective pricing of water, involvement of communities, and utilisation latest technologies that help increase equity and sustainability.

Pakistan's to-be thriving port suffering from crippling water scarcity

Innovative technologies such as direct seeding drip irrigation, micro irrigation, low-energy precision application sprinklers, recycling and treatment of wastewater can increase efficiency of water.

All interventions in the Indus basin have compromised sustainability in favour of temporal suitability. Projects worth billions of dollars are still being proposed to build dams and divert the rivers, but nothing at this scale has ever been proposed to address demand management or to improve basin-wide irrigation-efficiency.

The policymakers must devise mechanisms that reward efficiency in the irrigation sector and promote emerging efficient technologies. Simultaneously, economic engines, which thrive on green technologies and flowing rivers, should be invoked to add commercial and intrinsic value to water that comes back to the environment.

Adoption of water-conserving practices has already shown better results. For instance, Paddy was grown in Pakistan on beds and furrows which utilise lesser water than the traditional flooding method resulting in water-efficiency almost getting doubled through a mere change in the irrigation technique. In Brazil, rice irrigation using centre pivot system reduced water use by 50% compared to surface system.

Drip irrigation and micro sprinklers can increase efficiency from less than 60% to more than 95%. Pakistan, despite being one of the ten biggest exporters of wheat in the world, has a per hectare lower yield (2.6 tonnes) than India (2.8 tonnes) and China (4.8 tonnes). Drip Irrigation can reduce water requirement from 35% to 40%, though it is expensive for the poor farmers.

The Human Development Report (2006) states that Pakistan allocates 47 times more funds for its armed forces than it does on water and sanitation. The difference of ratio is among the highest in the world.

The report suggests 1% of GDP as the optimum allocation for water and sanitation. Technology and know-how for effective water husbandry does exist and with the methods already in use, farmers can cut their demand for water by 40% to 90%.

When food goes in the bin, the poor go on an empty stomach

The United Nations World Water Development Report of 2015, states that by 2050, the world will have to increase its food production by 60% and developing countries by a 100%.  The need of water for agriculture will consequently increase, but the availability may not match the increasing demand.

So, there would be a need to adopt innovative methods as already explained to cope with the forthcoming situation. Bottom-line is that if we cannot increase the supply of our freshwater, then efficiency must be increased to balance supply and demand for a sustainable future.

The writer works at the Sustainable Development Policy Institute as Project Assistant and specialises in environment, water governance and flood management



Published in The Express Tribune, September 18th, 2017.

Like Business on Facebook, follow @TribuneBiz on Twitter to stay informed and join in the conversation.
COMMENTS
Comments are moderated and generally will be posted if they are on-topic and not abusive.
For more information, please see our Comments FAQ