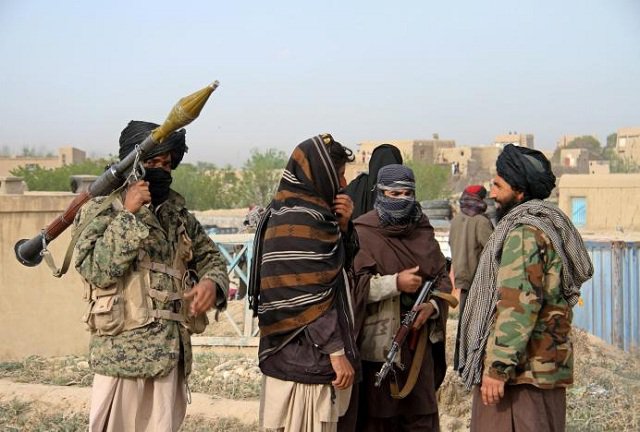 ---
Last month the Tehreek-e-Taliban Pakistan released the inaugural issue of its English-language magazine Sunnat-e-Khola following in the footsteps of the Islamic State or Da'ish. Notably the 45-page magazine is from those women who migrated to Khurasan, supposedly a caliphate established by Da'ish in Afghanistan. But unlike Dabiq, a high-quality magazine issued by Da'ish, this is an amateur effort with low-quality images. The pieces are also poorly written and riddled with typos. On the cover or title page is the image of a lone woman clad in a black, Saudi-style abaya. On the contents page is the image of a woman holding a child in Afghan-style burqa. Both are shown walking on the sand in a desert, in an effort perhaps to convey the hardship of migrant women believers.

Random references to Muslim history are made in the editorial titled 'Pak-India Decisive War' before the performance of the Pakistan Army is panned down in the 1971 and Kargil conflicts, raising questions about the legitimate representation of Muslims in wars with the Taliban. It heaps scorns on the army for its failures, kow-towing to the US and torturing Taliban men and women. It claims that Pakistan is facing an existential threat from India and only the TTP can be the saviour.

One feature titled 'Believing Women' is the English translation of a speech of TTP leader Mullah Fazlullah, alias Khurasani, who fled to Afghanistan when the Pakistan military led an operation in Swat to regain control of the area. He later became the TTP chief after the death of Hakimullah Mehsud in 2013. His speech is a call for migration and jihad, making reference to the pharaoh of Egypt, Tunisia, Saudi Arabia and Pakistan, and Asiya, the wife of the Egyptian pharaoh, who left the luxuries of life and endured hardship for her faith in God. He makes references to many women from the early period of Islam, including pious Hazrat Sumayya, noting that she did not waver despite the torture leading to her death. He reminds women of their religious obligation to migrate and participate in jihad, taking a swipe at women serving in American and Pakistani armies.

TTP publishes second issue of Vogue-style magazine

Another feature, 'My Journey: From Ignorance to Guidance' is an 18-page-long story of Dr Khaula Bint Abdul Aziz, daughter of an army officer, who graduated from a medical school in Lahore. It makes absurd claims such as looking after heart and cancer patients while also treating psychiatric and mental health patients in the UK. She claims to have found true faith after indulging in the luxuries of life, travelling around the world and meaninglessly spending time with friends in the UK.

Her story seems like a story of a dreamy teenager who travels across international borders with ease, finds a true teacher, is able to live as she seems fit from a high earning health professional to a stay-at-home pious woman, who travels at whim between Pakistan, Syria and Afghanistan. She is able to miraculously connect with a girl from Jamia Hafsa of Lal Masjid when she desires through a random call on her cellphone in Syria. She finally finds the 'Ta'ifa al-Mansurah — the victorious sect TTP, perhaps making a reference to some groups mentioned in traditional Islamic literature, and also a sectarian militant group formed in 2006 in Iraq. She is highly critical of the Pakistan Army and the women of their household for their secular ways of life and alliance with the American foreign policy. She is also critical of the media, ISI, ISPR, politicians in Pakistan, Saudi Arabia and Malaysia, and continues to make references to Lal Masjid. The events described in the narrative appear to have been imagined and the timeline does not make any sense, raising doubts about it being a real-life account of a health professional.

There is also an interview of a minor titled 'Come Let's Do Jihad With Little Omar Mujahid'. It is an account of a six-year-old boy from Khurasan, studying in grade one in a madrassa and interestingly studying Urdu, English, math and Islamic studies. Omar prays for the Pakistan Army to become Muslims and join jihad as he has learnt of their alliance with the West. However, consistent with the theme of the magazine, after his friend's death in a drone attack while bowing in the morning prayer, Omar plans to fight the infidel (read: Pakistan Army).

Another interview with the first wife of the TTP leader further highlights the call for and significance of migration and jihad for women. Contrary to the public account that Fazlullah abducted her, she states that her father gave her in marriage due to his high morals and piety, at the age of 14. She is critical of the marriage laws in Pakistan and denounces the legal age of marriage (18 years) as against the injunctions of Islam. She argues that late marriage leads to the moral destruction of a society and an early marriage will enable girls to have lots of children. She received religious education from Fazlullah and claims to have a huge following in Swat.

She claims that Fazlullah influenced educated working women in the area who found peace through his teachings and refrained from working without the veil. She narrates the events leading to their sudden escape due to the military operation in Swat, noting that Fazullah's mother was unaware of his activities and was left behind since she was sick and bedridden, and was detained by the army. Similar to the contradictions in Dr Khaula's story, despite her escape, she claims to be present in the prison when Fazlullah's mother became seriously ill. One wonders at the mystery of these accounts where miraculously these women were present at different places.

The last article 'Rise: Oh daughters of Hazrat Hawwa, Time of Martyrdom has come' makes reference to all scholars of 'Ahlus Sunnah Wal Jamaa' without naming any of them, highlighting the obligation to join if a Muslim country is attacked. In line with the key theme that Islam is under siege, it states that many Muslim countries are under attack from infidels. It criticises the "apostate leaders of Pakistan and generals" for opposing the implementation of Sharia law in the country, calling on the daughters of Eve to respond to the call of duty and rise against them. Like Da'ish, it encourages women to leave their families, if they obstruct in their call of duty as they will be rewarded in the afterlife.

Throughout the magazine, one can notice the focus on women and children, random references to the glorious past and sacrifices of pious Muslim men and women alike, particularly reminding Muslim women of their duty to migrate and join active jihad, including combat roles. This amateur contribution by the TTP highlights Da'ish's influence on its thinking as well as strategies. Pakistan is already grappling with the rising influence of Da'ish in many parts of the country. The media has also highlighted incidents where women left their families and went to Syria/Iraq to live in the caliphate. But the situation there may provide an opportunity for Da'ish runaways and returnees to establish a caliphate in Khurasan. This dangerous development should be a cause of concern for the security establishment of Pakistan.

Published in The Express Tribune, September 16th, 2017.

Like Opinion & Editorial on Facebook, follow @ETOpEd on Twitter to receive all updates on all our daily pieces.