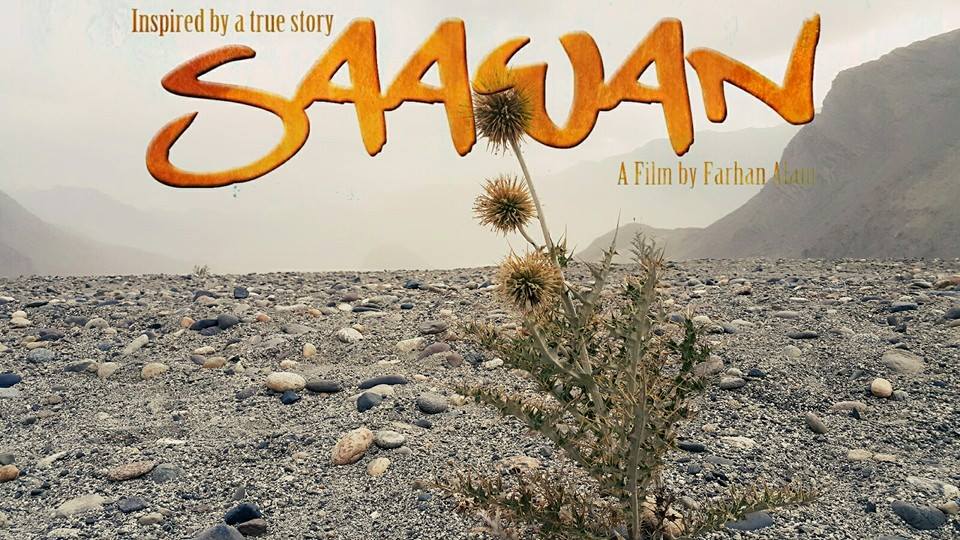 ---
Being a cinema enthusiast, it's ecstatic when one goes to watch a film with not enough expectations and comes out pleasantly surprised. You watch the characters and the story unravel on screen and you are with them throughout the journey. But then, it's equally upsetting when one goes to watch a film with expectations and comes out disheartened. That's how I felt after watching Saawan.

Directed by Farhan Alam, the film, based on a true story, revolves around a polio-affected physically-challenged child, Saawan (Syed Karam Abbas), who is left behind in the desert by his parents and how the lonely child now must find his way back to them.

'Raat Ka Nasha' from 'Punjab Nahi Jaungi' is the party anthem of 2017

While the premise of the film doesn't scream mainstream commercial cinema, that's exactly why I thought it would be something different and possibly a better cinematic output than most. But as with a major chunk of other Pakistani films, Saawan suffers from a poorly-structured screenplay. Here is an idea that had the potential of being Pakistan's very own Tokyo Story or A Bicycle Thief, if only the writer Mashood Qadri had kept it simple.

Just because the film is based on true events doesn't mean it must depict the entire story from beginning to end. A film's structure is more important in truthfully conveying the emotion of a story and making the audience feel the character's struggles. And in cluttering up the story with so many themes (vaccination, child trafficking, political manipulation, power struggle, etc.) and redundant subplots, Qadri distracts from the main story of Saawan and dilutes its intensity until one contemplates leaving the cinema hall before the film is over.

Talking about the character Saawan, it's beyond the breaking point of the audience's suspension of disbelief to see a polio-affected child walking. If one is going to pull it off, it has to be believable. It wasn't enough to do so in the film. Yet, credit must be given where due.

Abbas is probably the only child actor in Pakistan who I believe can give most mainstream TV and film stars a run for their money. Some other characters in the film, with the exception of Saawan's mother (Najiba Faiz) who was brilliant, are either redundant or they, like Saleem Mairaj, overact and waste screen time.

Mind you, despite being a film riddled with major storytelling flaws, individually, there were some intense scenes which stood out. Most of them were in the first 15 minutes or the last and involved Saawan and his parents. But they were so few and too far and between to not make any difference to the overall experience. One thing I still don't understand is the need to forcefully insert a love angle of a side character, which has no major importance to the narrative at all.

'Na Maloom Afraad 2' vs 'Punjab Nahi Jaungi': Who stole the show at the box office?

It's, in fact, sad that despite having all the tools (good cinematography, locations, actors, narrative tropes) needed to make a great film, Saawan fails to utilize them to their potential and falls flat on its face. It's an ambitious film with a positive message, which if it had succeeded in its effort, would have done wonders for the credibility of Pakistani cinema. And while the team must be commended for at least going all out to make a film most would be afraid to attempt, the final output Saawan eventually is a monsoon that never arrives.

Verdict: As a film that had the potential to deliver big time, it fails on so many levels. Still, go watch it if you want a break from the mainstream masala flicks and want to witness something different.
Rating: 2/5

Have something to add in the story? Share it in the comments below.
COMMENTS
Comments are moderated and generally will be posted if they are on-topic and not abusive.
For more information, please see our Comments FAQ