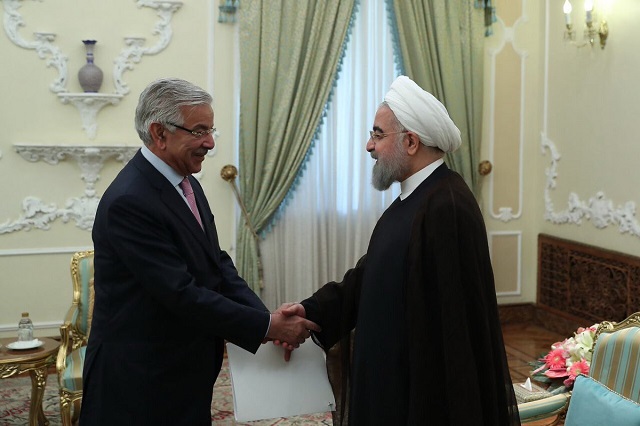 ---
Islamabad on Monday won Tehran's support for its diplomatic initiative seeking regional consensus on the Afghan endgame in the wake of the new US strategy announced by President Donald Trump last month.

The development came at the end of a daylong visit by Foreign Minister Khawaja Asif to Iran's capital where he held formal talks with his Iranian counterpart Javad Zarif.

Asif, who was accompanied by Foreign Secretary Tehmina Janjua and National Security Adviser Lt Gen (retd) Nasser Khan Janjua, also called on President Hassan Rowhani.

Trump lays down Afghan strategy, lambasts Pakistan for 'harbouring terrorists'

The delegation travelled to Iran as part of Pakistan's efforts to offset the possible negative fallout of the new US plan – to increase troops in the war-torn country – by reaching out to regional countries.

Pakistan has already won the crucial backing of its initiative from China, which also agreed that the Afghan conflict could only be resolved through political process.

Asif is due to visit Turkey on Tuesday and will also meet his Russian counterpart on the sidelines of UN General Assembly session in New York later this month.

In Tehran, Asif exchanged views with Zarif about efforts for peace and stability in Afghanistan, particularly in the context of latest developments there.

In dealing with Trump, Pakistan plays its trump card

They agreed that there was no military solution to the conflict in Afghanistan and a politically negotiated settlement was imperative for lasting peace in Afghanistan, said an official handout issued by the Foreign Office.

"They underscored that the regional countries [which] have vital stakes in stability in Afghanistan should play a more proactive role in the peace efforts," it added.

Asif said pursuing the policy of peaceful neighbourhood, Pakistan was committed to further strengthen relations with Iran and to work closely for promoting peace, security and development in the region.

In this regard, he expressed satisfaction over increasing engagement between Pakistan and Iran while emphasising the need to focus on promoting trade, economic cooperation and connectivity.

Before leaving for Tehran, Asif told the Iran's state news agency IRNA that his visit was part of efforts to evolve a regional consensus on Afghanistan. The top Pakistani diplomat insisted that US reliance on use of force had already failed in Afghanistan.

Asif leaves for Tehran today

"In Pakistan, we do believe that there can be no military solution to Afghanistan problem. It has to be political solution… a political solution is always a long-lasting one but military solutions will collapse soon," Asif said.

According to the Foreign Office, the Iranian FM reaffirmed Iran's commitment to deepening relations with Pakistan in diverse fields including trade, investment, connectivity as well as border management.

Both ministers shared deep concern over human rights violations in the Indian Occupied Kashmir (IOK), the Foreign Office said. The two ministers also expressed deep concern over atrocities being committed against Rohingyas and agreed on the need for urgent humanitarian efforts to alleviate their suffering.