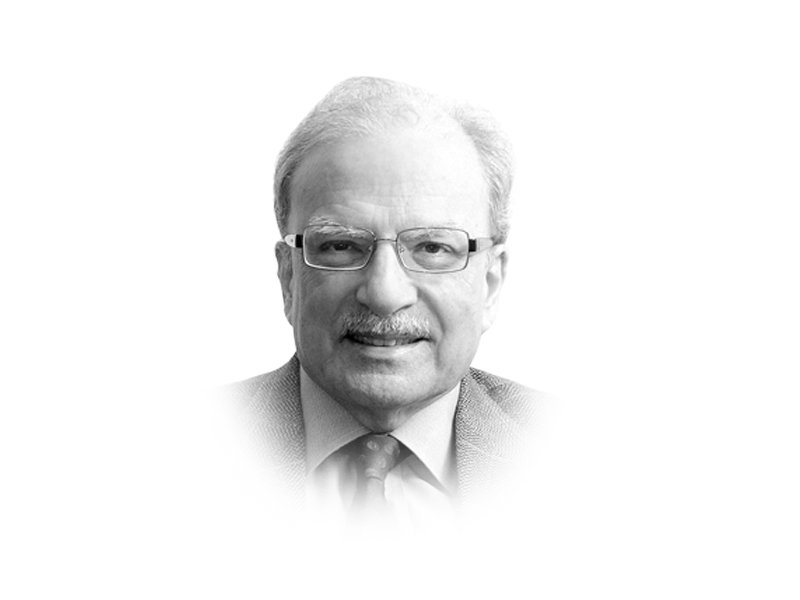 ---
Some of the commentary in the West following the removal of Nawaz Sharif from his seat in the National Assembly and hence from the position of prime minister has concluded that political instability has returned to the country. According to Pamela Constable writing for The Washington Post, "the historic ruling while hailed by Sharif's opponents as a victory for Pakistani democracy, threw the country's political future into turmoil." No elected Pakistani prime minister has completed his or her full five-year term in office, she reminded her readers.

There is also the suggestion that the political change may have come about because of military intervention. History, in other words, was repeating itself. Commenting on the political change, The New York Times' Salman Masood was of the view that "the Pakistani military has seldom been able to wield as a potent a mix of policy control and popular acclaim as it does now. The fragile democratic system…again appears to be on shaky ground." Sharif always had difficult relations with the military establishment. His earlier tenures were cut short either by the military operating behind the scenes — in 1993 — or by its direct intervention — in 1999. Continued Masood: "During his most recent tenure, Mr Sharif had an uneven relationship with the military. His overtures of more openness toward India, Pakistan's longtime foe, backfired as generals spurned his efforts."

What is actually the lesson of history? Before attempting an answer to the question, it may be useful to refer to current development theory. As economists belatedly have begun to recognise, there is a strong relationship between political stability and economic progress. This is certainly the case in Pakistan. In a recent book, two academics, an economist, Daron Acemoglu from MIT, and a political scientist, James Robinson from Harvard University, collaborated and wrote, Why Nations Fail. In the book they explored how political and economic systems interact with one another. They divided institutions into two categories: exclusive and inclusive. One without the other won't produce progress in the desired direction. For a country to have an inclusive economic system in which rewards of growth are reasonably equitably distributed, they must also have an inclusive political system. Pakistan's history has many examples to show that these two authors are correct in positing these relationships.

Peaceful and orderly transfer of power is an important component of political development. In Pakistan's history this did not happen on five occasions: 1958, 1969, 1971, 1977 and 1999. As President Ayub Khan wrote in his autobiography, Friends Not Masters, he was distressed by the way politicians had conducted themselves in the period immediately after the country gained independence. While India, Pakistan's sister state, took less than two years to write a constitution, the Pakistani leadership worked on their basic governance document for almost a decade. Ayub Khan believed that Pakistan's political establishment was more interested in staying in power than in developing the institutions of good governance. When they did and adopted a Constitution, the result was weak state. He decided to intervene in order to make the state strong. Four years after he had appointed himself the country's president, he came up with a presidential form of government. The Constitution of 1962 written by the military administration concentrated all power in the hands of the president.

Viewed from the perspective of economic growth, the period of Ayub Khan (1958-69) was a great success. The economy grew at a rate close to 7 per cent a year, more than twice the rate of increase in the previous decade. But the political system put in place by the 1962 Constitution was not inclusive; it did not cater to the demands of some significant members of society. While the peasantry had done well especially after the adoption of the "green revolution," the urban working classes were of the view that they were not given their legitimate share in the increase in incomes of the owners of capital. Ayub Khan had to give up power once people came out in the street to protest that they had not been rewarded by what the military ruler had called the "decade of development" — 1958-68. The military intervened and placed the country under martial law. His departure was not the consequence of the working of political institutions.

Pakistan's economic and political development has been uneven over the last 70 years. The '60s and '80s were periods of high rates of economic growth as were the early 2000s. During these three periods, the military was in charge and that meant forced political stability. Also during these periods, there were large flows of external capital, mostly from the United States. Washington, in pursuing its strategic objectives in the areas in which Pakistan is located, was prepared to aid Islamabad when that suited it. However, once the United States' strategy changed and Pakistan lost its importance, Washington walked away. Each period of rapid growth was followed by brief interludes of near-democratic governance and loss of economic momentum. Each time the rate of economic growth declined by almost two percentage points. Washington under President Donald Trump is pulling out of Pakistan once again. This is one area where history indeed is repeating itself. That is not the case in terms of political development.

It seems to me that for once change in the regime has been precipitated by actions taken by the institutions of governance and has not been forced by the men in uniform. If that is the case, with this episode Pakistan will emerge politically strong. That in turn will help in making economic advance and dealing with America's withdrawal.

Published in The Express Tribune, September 11th, 2017.

Like Opinion & Editorial on Facebook, follow @ETOpEd on Twitter to receive all updates on all our daily pieces.
COMMENTS
Comments are moderated and generally will be posted if they are on-topic and not abusive.
For more information, please see our Comments FAQ