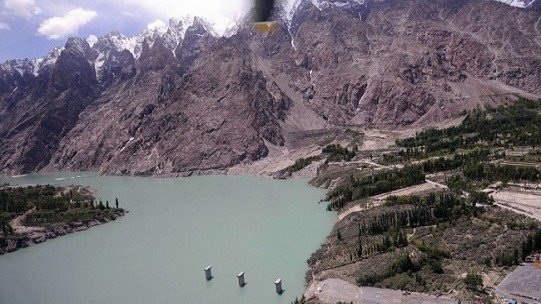 ---
ISLAMABAD: Thousands have been evacuated from their homes this week in north Pakistan amid fears a lake formed by a landslide could soon burst, triggering massive flooding and severing an important trade link with China.

This could happen next week when authorities expect the water to start flowing through a spillway created to drain the lake. Up to 50,000 people could be affected.

Here are some questions and answers about the genesis of the problem and its possible consequences.

How was the lake formed?

A massive landslide on January 4 completely blocked the Hunza River about 109 km (64 miles) east of the picturesque town of Gilgit, creating a huge lake now 19 km long and more than 100 metres (yards) deep. The landslide, near Attaabad village and said to be 130-200 metres in height and up to 600 metres wide, killed 13 people. Another seven died as rising water inundated three villages upstream. Six thousand people were displaced and another 25,000 left stranded. They are now struggling to keep a link with the main town of Gilgit, their commercial lifeblood.

How did the government react?

The army, tasked to handle the crisis, says it acted promptly and after a detailed survey began digging a spillway, now completed, on January 22. Officials expect the water to start flowing next week and ease pressure on the blockage, reducing chances of a sudden burst. Authorities also helped stranded people upstream get essential food and fuel supplies via boat and helicopter services.

What are the risks now?

Officials initially played down the chances of a dam burst but they now do not rule out the possibility of a sudden breach once the water starts flowing through the spillway. This could cause a massive flood. A UK-based geologist, Dave Petley of Durham University, who visited the site, described three scenarios while talking to Reuters this week: (a) The most likely is that the sides of the spillway could start eroding very quickly, once the water starts flowing through it, causing a "very big flood". (b) The spillway survives and the lake remains intact. This is very unlikely. (c) In the worst-case scenario, the dam could collapse. That's unlikely but cannot be ruled out.

What will happen in the worst case?

Based on the worst case scenario, the dam bursts and the lake empties within an hour, officials say some 39 villages would be inundated in the Gilgit-Hunza region alone, affecting about 13,000 people. Residents put the number at about 25,000, however, and say a similar number would be affected further downstream. Seventeen bridges could be fully or partially damaged. The lake initially blocked a 2 km stretch of the Karakoram highway, an important trade link between Pakistan and China, but officials now say 22 km are submerged and the highway could be further damaged.

How does it put pressure on the government?

The government is already under fire for its handling of crippling power cuts and is struggling to contain a Taliban insurgency. People say the government was too slow to react and allowed the situation to get to a point where it threatens to cause significant damage to property and infrastructure. Mismanaging the displaced people will give opposition political parties another reason to attack the government of unpopular President Asif Ali Zardari, who faces a host of legal challenges to his position. The cost of resettling people and repairing bridges and roads will add to the government's economic woes as it struggles to stablise the country's sluggish economy.
COMMENTS (2)
Comments are moderated and generally will be posted if they are on-topic and not abusive.
For more information, please see our Comments FAQ