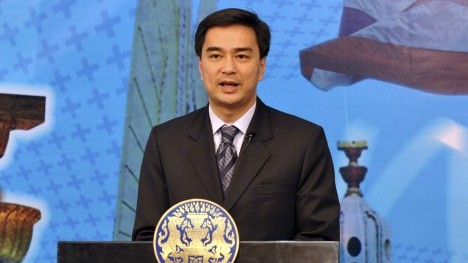 ---
BANGKOK: Thailand's premier said on Friday that order was restored after the deadly crackdown on anti-government protests triggered mayhem in the capital, but that the divided kingdom faces "huge challenges".

Prime Minister Abhisit Vejjajive declared victory in a campaign to secure Bangkok, clamping down on militants in the "Red Shirt" movement who went on a rampage of arson and looting after their leaders surrendered Wednesday.

"This is one of the worst episodes Thailand has ever faced," Abhisit said in a televised address to the nation. "We will continue to swiftly restore normalcy and we recognise that as we move ahead there are huge challenges ahead of us, particularly the challenge of overcoming the divisions that have occurred in this country."

Abhisit said he regretted the loss of life in the army offensive to shut down six weeks of anti-government protests, which left 15 dead including an Italian photographer, but defended the way it was carried out. "The operation was within the law and complied with international practice," he said, adding however that there would be an independent probe.

Concern remains over a shootout at a temple "safe zone" where six bodies were found. The premier, who has resisted calls for fresh elections from Red Shirts who condemn his government as illegitimate, said the focus should now move to healing the splits that fomented the unrest.

"We are living in the same house," he said. "I invite all of you to join the reconciliation process." "Let me reassure you that the government will meet these challenges through the five point reconciliation plan I have announced," he said, referring to a roadmap which failed to produce a peaceful resolution to the Reds rallies.

Thailand is largely split between the Reds, mostly urban and rural poor who are demanding the ouster of a government they condemn as undemocratic, and rival pro-establishment "Yellow Shirts" who represent the nation's elites. The Reds are mostly supporters of ex-premier Thaksin Shinawatra, who was ousted in a 2006 coup.

The billionaire tycoon was accused of gross rights abuses and corruption, but won grassroots support with his populist policies. Thaksin's elected allies were later ejected in a controversial court ruling, paving the way for Abhisit's administration to be appointed in a 2008 army-backed parliamentary vote.

Across central Bangkok a huge clean-up was under way after the scenes of anarchy that saw 36 major buildings go up in flames including the stock exchange and the nation's biggest mall which now lies in ruins. City workers used everything from brooms to bulldozers to clear debris left behind after two months of rolling demonstrations, including the remnants of towering barricades the Reds had used to occupy a top shopping district.

In the hotspots where protesters have battled with security forces over the past week, roads were being cleared of burned tyres, and concrete blocks and stones that had been used as missiles. "Time to Rebuild," the Nation newspaper said in a front-page banner, as reports said the damage bill from the torched buildings alone could reach 40 billion baht (1.2 billion dollars).

Thailand has suffered regular bouts of civil unrest in its turbulent history, but commentators warned the emotional wounds from unrest that has left 85 dead and 1,900 injured since mid-March could be hard to heal.

"No one knows how long it will take to close the deep divisions that have been opened within Thai families and society," the Bangkok Post said in a front page editorial. Bangkok and 23 other provinces in the rural north and northeast the Reds' heartland have been put under a curfew until Sunday to try to contain the conflict and prevent it from spreading across the nation.

With dire travel warnings issued by foreign governments, the outlook for the tourism sector is bleak. The finance minister said the chaotic scenes flashed on television bulletins would have a "disastrous" impact on the sector.
COMMENTS
Comments are moderated and generally will be posted if they are on-topic and not abusive.
For more information, please see our Comments FAQ