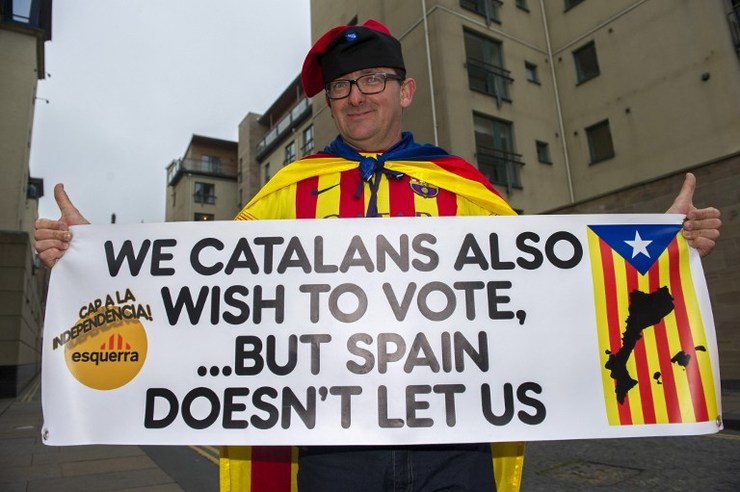 ---
BARCELONA: Catalonia is expected to pass a law on Wednesday laying the groundwork for an independence referendum on October 1 which is fiercely opposed by Madrid, setting a course for Spain's deepest political crisis in decades.

The looming showdown comes three weeks after the militant attacks in Barcelona, the capital of Catalonia, and a nearby seaside resort that killed 16 people and wounded more than 120 others.

Catalan television has since Monday night been running a 10-second ad featuring a railway track with two divergent paths and one message: "You are going to have the capacity to decide, will you give it up?"

Catalonia sets vote on independence from Spain for October 1

It aims to encourage Catalans to vote in the contested referendum, which will ask if they want "Catalonia to be an independent country in the form of a republic". The plebiscite will be officially called on Wednesday, according to a source close to the Catalan regional government.

Pro-separatist parties, which control the regional assembly in the wealthy northeastern region, are expected to pass the bill, ignoring a ruling by Spain's Constitutional Court that deemed the vote unconstitutional.

The bill will be tabled during a special session of parliament, with no debate, and then top Catalan government officials will swiftly sign it.

Spanish Prime Minister Mariano Rajoy on Monday accused the Catalan government of seeking to "bypass all legal procedures" with the law, which he has vowed to immediately challenge in the courts. His government has also threatened legal action against top Catalan political figures involved in the plebiscite.

Catalonia, a region of 7.5 million people with its own language and customs that accounts for about one-fifth of Spain's economic output, has significant powers over matters such as education, healthcare and welfare.

But Spain's economic doldrums and a perception that the region pays more in taxes than it receives in investments and transfers from Madrid have helped push the cause of secession from the fringes of Catalan politics to centre-stage.

Lawmakers who back independence won an absolute majority in the 135-seat Catalan regional parliament for the first time in a September 2015 election. The government that emerged from the election vowed to begin the process of breaking away from Spain.

Rajoy responded by promising new investments in Catalonia and regularly sent his deputy to the region, but made no significant reforms regarding the division of powers that addressed Catalan concerns.

Madrid could have defused the rising separatist tide had it offered Catalonia a new financing deal a few years ago, said Caroline Gray, an expert on Spanish independence movements at Britain's Aston University. "If some sort of deal had happened in the past, I personally think we wouldn't be where we are today," she told AFP.

Opinion polls show Catalans are evenly divided on independence. But a majority, over 70 per cent, want a referendum to take place to settle the matter.

Spain surprised at British tone on Gibraltar

Rajoy steadfastly refuses to let Catalonia hold a plebiscite similar to Scotland's 2014 referendum on independence from Britain, which was approved by London and resulted in a 'no' vote. His conservative Popular Party and the court argue that the Spanish constitution does not allow regions to unilaterally decide on sovereignty.

"Calling a referendum is not a crime," said Catalonia's vice-president Oriol Junqueras in response to this argument.

The Catalan government staged a symbolic independence referendum in 2014. Over 80 per cent of participants voted to split from Spain although only 2.3 million of Catalonia's 5.4 million eligible voters took part.

Spain's Court of Auditors ruled on Tuesday that 11 former Catalan officials, including former Catalan president Artur Mas, must repay by September 25 the US$6.1 million in public funds that it cost to hold the 2014 vote. The ruling was seen by the Catalan government as an attempt to intimidate separatists.
COMMENTS
Comments are moderated and generally will be posted if they are on-topic and not abusive.
For more information, please see our Comments FAQ