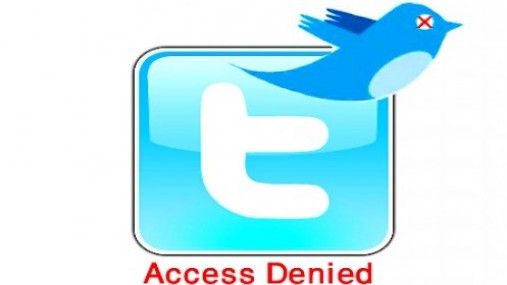 ---
KARACHI: Internet users in Pakistan are in uproar once again.

According to latest reports, Twitter, the popular micro-blogging website - which had become a hub of activity following the nationwide ban on Facebook and YouTube - was inaccessible to a number of internet users across Pakistan on Friday. The PTA has denied the overall blockage of Twitter and has stated that any users experiencing difficulties with the site should contact their ISPs.

So far, two Twitter accounts are confirmed as blocked by the PTA for containing blasphemous content.

"It is a childish and immature reaction, and has grave consequences which were not considered because those protesting against Facebook and blocking Twitter have no knowledge of how these sites were being used for good," said one local high school teacher in Karachi, who wished to remain anonymous. "I was counselling my students and guiding them in their ongoing studies through Facebook. I had ex-students in touch with me for guidance regarding their future academic decisions. Who will guide them now?"

Another online activist said that the blockage of Twitter was an act of censorship and a violation of basic rights. "Twitter doesn't even contain images so how can it be a part of the blasphemous cartoons episode?" he said. "They may as well ban the whole internet because immature reactions like this will only act as a catalyst for further reactionary offensive acts against Muslims online. The original offending Facebook page has swelled to close to 100,000 followers because of Pakistan's protest."

Pakistani Telecommunication Authority (PTA) blocked Facebook following a Lahore High Court (LHC) order to ban the website temporarily till May 31. On May 20, PTA also blocked the popular video sharing website, YouTube for hosting "blasphemous content". Wikipedia and Flickr.com were also blocked by various ISPs on May 20.

The controversial page by the name "Draw Muhammad Day" had been created by a Facebook user in response to American cartoonist, Molly Noris's protest to the decision of US television channel, Comedy Central to to cancel an episode of the popular show "South Park" over its depiction of the Prophet Mohammed (PBUH).

Noris has however disavowed having declared May 20 "Draw Muhammad Day" and has condemned the effort and issued an apology.

Many Pakistanis were enraged by the hosting of sacrilegious content by Facebook and anti-Facebook protests were carried out across the country. At the same time, a group of civil society activists against internet censorship held a press conference to protest the curbs on various websites by Pakistani authorities.

Facebook said it was disappointed on being blocked in Pakistan and was considering making objectionable content inaccessible in Pakistan.