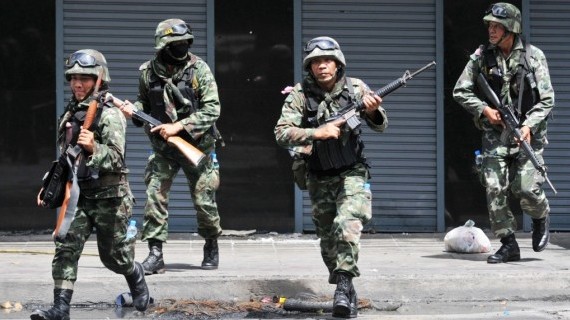 ---
BANGKOK: Thailand on Friday counted the cost of months of protests that descended into scenes of anarchy in the capital, damaging the nation's economy and reputation and leaving parts of Bangkok in ruins.

A crackdown on the "Red Shirts" rally base, which had already paralysed the city's main shopping district for six weeks, triggered mayhem when militants went on a spree of looting and arson that left 36 major buildings ablaze.

With the nation's largest shopping mall in ruins and partly collapsed, the stock exchange closed after being torched, and all bank branches shuttered, the kingdom faces months of rebuilding and a heavy financial toll. Experts said the wider economic impact is likely to be long and deep, after images of Bangkok burning were flashed around the world, spooking investors and visitors who had flocked to the "Land of Smiles".

"The latest political stand-off and the situation in Thailand has definitely shattered confidence in the country," said Nandor von der Luehe, chairman of the Joint Foreign Chambers of Commerce in Thailand. "I don't think existing investment will be moved away but to attract new investments will be very difficult," he said. "You build a reputation over a long period of time and you can destroy it overnight."

Thailand's tourism council dumped a forecast for 16 million visitors to arrive this year, saying that figure was likely to fall to 13 million in a blow for the industry which accounts for six percent of the country's GDP.

Finance Minister Korn Chatikavanij told a Tokyo conference that the violent scenes would have had a "disastrous impact" on the sector, even though most top destinations are far from the troubles in Bangkok. His concerns were echoed by the Bangkok-based marketing manager of a top international hotel chain who told AFP he expected a "storm" of cancellations in the coming days.

"Overseas partners are scared to send any guests," he said. "The image of Thailand has been affected... We're not getting any image of serenity. It's all blood, fire and trouble and the moment." The Bangkok Post said the damage bill from the torched buildings alone could reach 40 billion baht (1.2 billion dollars).

But Supavud Saicheua, head of research at Phatra Securities, said it was difficult to put a figure on the cost of the turmoil, especially for the tourist sector, because the high season does not begin until October. "It depends on the crucial next three or four months. That's when the major tour organisers will confirm if tourists are coming in the main season," he said.

Supavud said that Thailand's growth rate over the next three to five years could be dampened if investment remains low and political stability is not restored. Thailand has suffered regular bouts of civil unrest in its turbulent history, and others were more confident that Southeast Asia's second-biggest economy could continue to show its characteristic resilience.

"I think the business confidence in Thailand will settle down after all this. I think we can recover very soon," said Payungsak Chartsutipol, chairman of the Federation of Thai Industries. "For the Thai economy it will only take one to three months. We have a very strong export industry and we have a very good balance of industry," he said.

As they swept up broken glass and stocked shelves stripped by panic-buyers and looters, businesses both large and small were fervently hoping that such optimism is well-founded. "I used to sell up to ten purses a day. But since last week when the soldiers came, I haven't sold a single purse," said Tomorn Onsa, 26, a street vendor in the Nana tourist district in downtown Bangkok. "I just came back here today and re-started my street shop in the hope that I can sell, otherwise I don't know how can I find money to send to my family in my hometown."