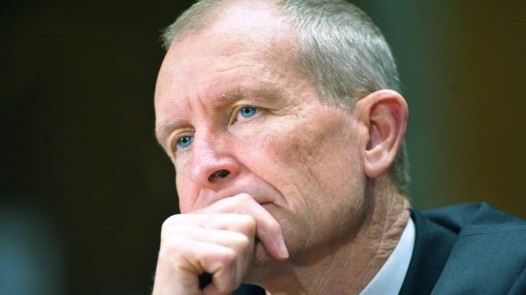 ---
WASHINGTON: US spy czar Dennis Blair on Thursday said he would quit, paying the price for a string of intelligence failures after a 16-month tenure marred by rumblings of infighting in the clandestine services.

Blair, who will be the most high-profile figure yet to leave President Barack Obama's national security team, was heavily criticized after the attempt by an Al-Qaeda linked group to bring down a US airliner on Christmas Day.

Some of the 16 US intelligence agencies he was charged with coordinating also came under fire for failing to join the dots before the Fort Hood massacre in November, and the failed Times Square bombing earlier this month. Some Republicans however charged that Blair had been made a scapegoat for wider Obama administration flaws on intelligence, and used the shake-up to open a new row on national security with the White House.

"It is with deep regret that I informed the president today that I will step down as director of national intelligence effective Friday, May 28th," Blair, a retired admiral, said in a statement to US intelligence workers.

"I have had no greater honor or pleasure than to lead the remarkably talented and patriotic men and women of the Intelligence Community," he said, praising them as "true heroes." "Every day, you have worked tirelessly to provide intelligence support for two wars and to prevent an attack on our homeland."

Obama paid tribute in a statement to Blair's "remarkable record of service" and said he had "performed admirably and effectively" as Director of National Intelligence. "Over the course of many decades, Admiral Blair has served with great integrity, intellect, and commitment to our country and the values that we hold dear," he said, noting "his sense of purpose and patriotism."

A US official said on condition of anonymity that Obama had already interviewed several "strong" candidates to replace Blair as DNI, a post set up to plug intelligence failures after the September 11 attacks in 2001. There have long been months of rumors that Blair was losing the confidence of the White House.

Just this week, Obama dispatched Central Intelligence Agency director Leon Panetta and his national security advisor James Jones to Pakistan, to discuss anti-terror cooperation and intelligence following the failed Times Square attack this month. Blair, nominally the top US intelligence officer, did not make the trip.

In recent months there have been leaked accounts in the US media of turf wars and clashes between rival centers of power in the shady intelligence world especially alleging rows between Panetta and Blair. Obama has also leaned heavily on his top White House counter-terrorism advisor John Brennan, who has often been the public face of the White House's efforts to keep Americans safe and head off future terror attacks.

Blair's departure comes just days after the Senate Select Committee on Intelligence issued a damning report on failures leading up to the attempt by Nigerian Umar Farouk Abdulmutallab to blow up a Northwest jet over Detroit. In an unclassified summary of its investigation into the attack, the committee said "systemic failures" opened the way for the 23-year-old accused plotter, who allegedly had explosives sewn into his underwear and has been linked to Al-Qaeda.

The committee, which launched its investigation on December 31, noted failures to revoke Abdulmutallab's visa, place him on the "no-fly list," connect and correlate different pieces of information, as well as the CIA's failure to share information about suspicions he was plotting an attack.

The DNI has also come under fire for failing to piece together tell-tale signs ahead of the November 5 shootings at Fort Hood army base in Texas. An army psychiatrist, Major Nidal Hasan, has been charged with carrying out the shooting spree that killed 12 soldiers and one civilian.

Both Hasan and Abdulmutallab were believed to be inspired by a radical US-born Islamic cleric now in Yemen. Republican lawmakers assailed Obama's handling of intelligence matters as they heard of Blair's departure. Pete Hoekstra, the top Republican on the House Intelligence Committee, said the resignation was a "disturbing sign" and accused Obama of "micromanagment" of intelligence, and "rampant politicization of national security."