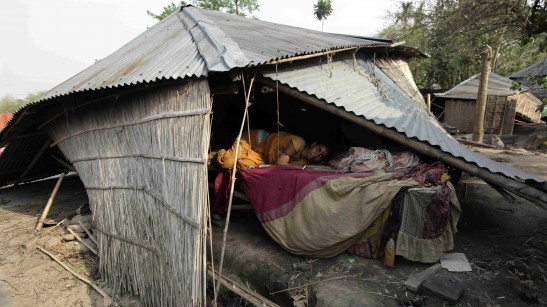 ---
HYDERABAD: Cyclone Laila weakened Friday after battering India's southeastern coast with several days of torrential rain and high winds that claimed 26 lives, officials said.

The storm, which formed over the Bay of Bengal, drenched the southern state of Tamil Nadu before making landfall further north Thursday in neighbouring Andhra Pradesh, where it uprooted trees, electricity poles and destroyed communication lines.

Andhra Pradesh disaster management commissioner T. Radha said more than 70,000 people evacuated ahead of the storm had been told to stay in shelters until Friday evening. Radha told AFP that at least 17 people had died in storm-related accidents across the state. Television footage showed cars smashed by fallen trees, huts missing their thatched roofs, people clearing debris left by the wind and rains, flooded roads and marooned villages.

The heavy rains and strong winds damaged mango, banana and lime crops, with conservative estimates putting the losses at two billion rupees (41 million dollars.) In Tamil Nadu where the storm was blamed for nine deaths, officials said life had begun to return to normal as flood waters in low-lying areas receded.

Cyclone Laila was still hovering off the Andhra Pradesh coast Friday, but its force had weakened with wind speeds down to 75 kilometres an hour, compared to 125kmh at its peak. "We think it will weaken further and move in a northerly direction. But there will be more rains," said V. Prasad Rao, director of the cyclone warning centre in Visakhapatnam city.

Another weather office advisory warned fishermen to stay ashore due to "rough" sea conditions and predicted widespread rains for Orissa state, north of Andhra Pradesh. India and Bangladesh are hit regularly by cyclones that develop in the Bay of Bengal between April and November, causing widespread damage to homes and fields.

Last May, Cyclone Aila tore through southern Bangladesh killing 300 people and destroyed 4,000 kilometres of roads and river embankments, leading to major flooding. About 200,000 people were made homeless and many remain in temporary shelters.