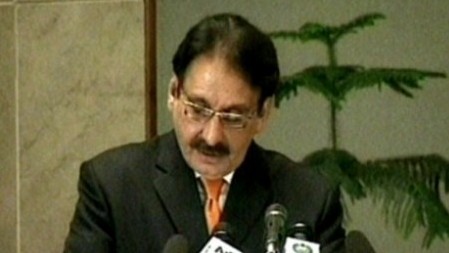 ---
KARACHI: Chief Justice Iftikhar Chaudhry has issued an order asking Home Secretary Sindh to provide a list of all cases abolished under the NRO in Sindh.

With regards to pending cases, the CJ has also directed that they be dealt with on a fast track basis in order to reduce backlog as fast as possible. The CJ gave these instructions while presiding over a meeting on Thursday which was held in the Supreme Court (SC) registry in Karachi. The meeting was attended by Justice Ghulam Rabbani and Chief Justice of Sindh Sarmad Jalal Usmani. Prosecutor General Sindh (PGS) Shahadat Awan and Member Inspection Team of the Sindh High Court were also present.

In the meeting, the judges discussed the progress of the implementation of criminal cases revived after the National Reconciliation Ordnance (NRO) was repealed in the December 16, 2009 judgement, says a Supreme Court press release. The purpose of the meeting was to extend information and ideas to help improve the out-put and efficiency of the National Accountability Courts. The CJ stressed the need to provide speedy justice to the people of Pakistan.

"The people have high expectations from us and we must live up to their expectations and not let them down," he commented. The CJ was informed that criminal cases covered under the Pakistan Penal Code (PCC) have been revived and the courts are disposing them as best as they can. The PGS said that a complete report on the progress of all cases will be provided as soon as possible.

He said that there were nine cases in the Anti Corruption courts of which four have been decided and five are still pending. The CJ emphasised that facilities to the court need to be provided and sufficient provisions be made available for the courts to work smoothly.

Published in the Express Tribune, May 21st, 2010.
COMMENTS
Comments are moderated and generally will be posted if they are on-topic and not abusive.
For more information, please see our Comments FAQ