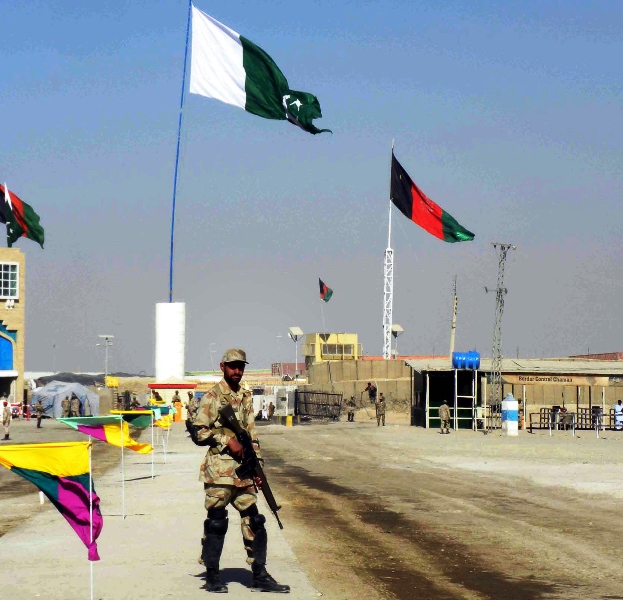 ---
On the face of it, there is nothing new in the so-called new Afghan policy of the US the salient features of which were announced by US President Donald Trump on Monday.

But a closer look at these features makes it clear that the US has finally decided to stay put in Afghanistan and fight to the last Taliban. And this time it is not asking Pakistan to 'do more' like in the past. This time the US is asking Pakistan to 'stop' forthwith 'aiding and abetting' the Haqqanis.

And interestingly, the US wants India to foot the bill of Washington's renewed Afghan war effort. Trump is not asking India to send its troops to the war-ravaged country. For this he is looking at Nato. If India agrees to foot Trump's war bill, it will lose Iran for good which would be a boon for Pakistan.

Road to Afghan peace runs through Kashmir, admits US 

The most sensible response to Trump's latest on Afghanistan in Pakistan's context has come from Beijing. Asked about Trump's speech, Chinese foreign ministry spokesperson Hua Chunying said: "We are happy to see Pakistan and the United States carry out anti-terror cooperation on the basis of mutual respect, and work together for security and stability in the region and world.

"We hope the relevant US policies can help promote the security, stability and development of Afghanistan and the region," Hua said.

"We believe that the international community should fully recognise Pakistan's anti-terrorism (achievements)," she told a daily news briefing. She certainly did not lambast Trump's speech as some analysts in Pakistan would have us believe that she did.

Our National Security Committee (NSC) which met under the chairmanship of Prime Minister Shahid Khaqan Abbasi on Thursday strongly rejected US President Donald Trump's accusation that Pakistan has been undermining the US's so-called 'war against terror' despite receiving billions of dollars in aid. This was solely for the consumption of our domestic audience.

We know that the US would like to make a Cambodia of Pakistan at some future date when even after a surge in troops things would go from bad to worse. That is what we should be guarding against rather than wasting our breath on issuing useless and false bombastic against the US.

Our current Afghan policy has been built on the premise that one day soon the US boots would walk away from Afghanistan, leaving us to cope with the consequent mess like the CIA did after the first Afghan war. That is perhaps why we felt we needed to remain on the right side of the Taliban as we knew with the Isaf troops out of Afghanistan it would not take long for the Taliban to return to Kabul. Therefore, the safe havens for Haqqanis and the Quetta Shura, at the risk of being accused of playing a double game.

Now that the US has said that it is not going anywhere in a hurry we do need to revisit our 16-year-old Afghan policy. More so, because there are other equally compelling reasons for the US other than the Taliban to extend its stay in Afghanistan indefinitely.

With Afghanistan situated as it is in the heart of one of the world's most volatile regions, the US would find it almost impossible to walk away from. And for India to fight America's proxy war against China with any degree of effectiveness, the US would surely like to have its boots located in easy reach of the proxy war theatre.

Hamid Karzai slams Trump's latest Afghanistan policy

With the US staying put in Afghanistan ostensibly until the full obliteration of the Taliban, we should stop bothering about being encircled by a hostile trio — India, Iran and Afghanistan — and start redesigning a new Afghan policy based on the premise that we do not need the Afghan Taliban any more. And at the same time we need a brand new policy to win the hearts and minds of the people of Afghanistan so that they would also feel that it was time for them to decide that they do not need the Pakistani Taliban any more.

Published in The Express Tribune, August 26th, 2017.

Like Opinion & Editorial on Facebook, follow @ETOpEd on Twitter to receive all updates on all our daily pieces.
COMMENTS (4)
Comments are moderated and generally will be posted if they are on-topic and not abusive.
For more information, please see our Comments FAQ