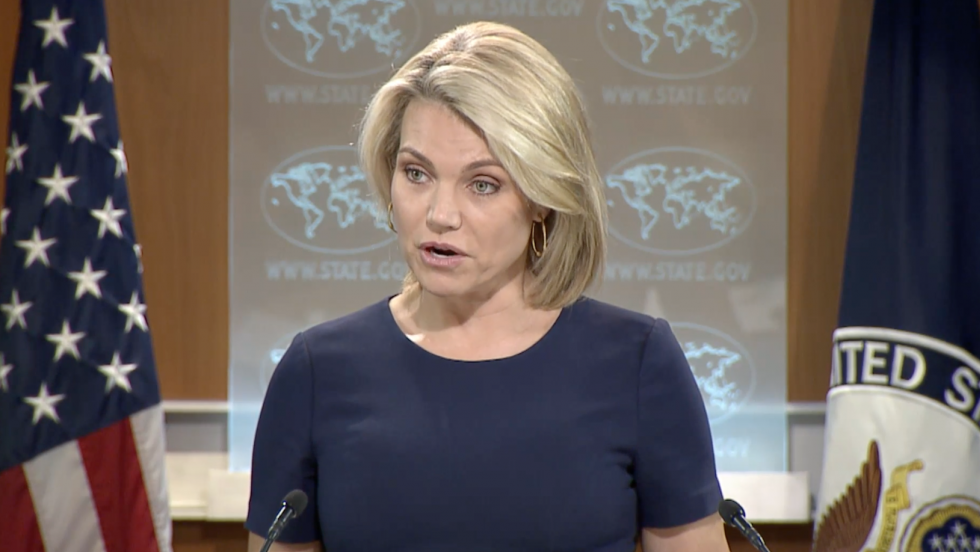 ---
Two days after US President Donald Trump announced his much-awaited policy for Afghanistan and beyond, the State Department conceded that resolving the festering dispute between New Delhi and Islamabad over the Himalayan state of Kashmir "might help in bringing peace in Afghanistan".

The statement from State Department spokeswoman Heather Nauert came a day after Secretary of State Rex Tillerson urged India to seek rapprochement towards arch-rival Pakistan.

The Kashmir dispute has bedevilled relationship between the two South Asian neighbours since their inception in 1947.

Islamabad believes that New Delhi is using Afghan soil to fuel terrorism in Pakistan. And army chief General Qamar Bajwa voiced Pakistan's legitimate concerns about growing Indian role in Afghanistan in a meeting with US Ambassador David Hale on Wednesday.

Scapegoating Pakistan will not help stabilise Afghanistan, resolves top security panel

Speaking at a press briefing on Thursday, the State Department spokeswoman said the US views handling Afghanistan as a regional strategy which also incorporates India and Pakistan.

She insisted that "incorporating all the nations in the region who can help assist and help make Afghanistan a stable place" was essential for South Asia.

Asked if the Trump administration would push for Kashmir solution as part of its regional strategy to deal with Afghanistan, Nauert said Washington's policy on Kashmir has not changed.

"We continue to encourage the sides to sit down and talk together," she underscored.

Regarding Pakistan's decision of fencing the Durand Line, the border with Afghanistan, the State Department spokesperson said the United States supports practical cooperation between both the countries.

COAS warns US against growing Indian role in Afghanistan

Nauert went on to say that the US supports an Afghan led peace process for stability in the strife-torn country.

"One of the ways we believe that they can get to the point [of achieving stability] is through the assistance of regional partners, regional partners such as India.

"India has been very helpful. They've done a lot in terms of providing development funds to Afghanistan so far. We applaud them for that. They've pledged about $3 billion since 2001," she said.

She added that the US wants Pakistan to be able to do more and intend to work with those countries for an Afghan led peace process.
COMMENTS (7)
Comments are moderated and generally will be posted if they are on-topic and not abusive.
For more information, please see our Comments FAQ