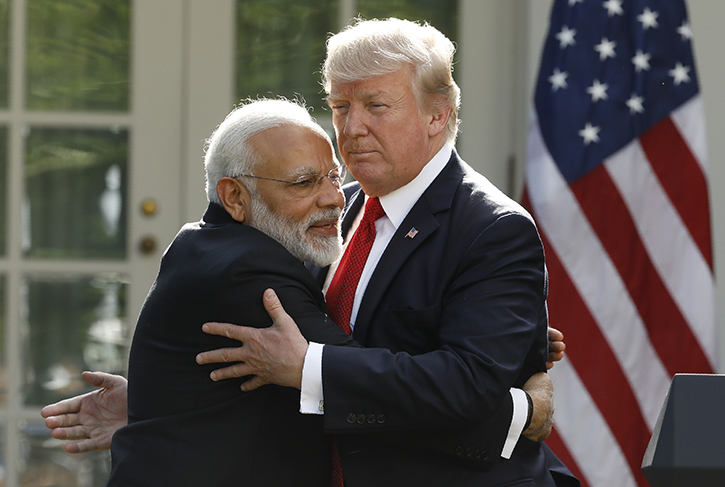 ---
President Donald Trump has finally found time from the internal White House crises and racial tensions within the United States to address a much-awaited cornerstone of his administration's foreign policy: the question of Afghanistan and Pakistan.

The sixteen years of US involvement in Afghanistan have been marred with an inability to completely dismantle terror networks in the region. These failures have often been plastered-over by shifting the blame to the Pakistani government. Pakistan has been constantly told to 'do more' in its bid to fight terror. This is rhetoric that became routine during the Bush and Obama administrations.

However, the political landscape has changed significantly since those administrations. The American policy of asking Pakistan to do more to earn its foreign aid may no longer be feasible. Pakistan has already made progress in uprooting domestic terrorists and has alternative foreign policy options.

Pakistan has waged significant military and civilian sacrifices in the war on terror. Undeniable gains have been made in eradicating domestic terror networks from Pakistan. The ISPR claims no organized terror networks exist in Pakistan today. The US State Department released a report, in July of this year, admitting terrorist activity in Pakistan had sharply declined for the second year in a row.

The number of attacks has decreased, the security apparatus has been upgraded and various networks have been dismantled. While acts of terrorism are still weekly news, they are no longer daily news. There has been renewed resolve to fight terrorism through a national consensus, political support and military might.

Such evidence suggests that the days of training camps and militancy safe-havens in Pakistan's tribal regions may finally be coming to a close. For the Trump administration to not mention the gains Pakistan has made in eradicating terrorism in the prime-time address is a gross disservice to its ally.

Pakistan is also no longer isolated in its foreign policy. Pressure on Pakistan to accept US Aid may not be as applicable as it was when the War on Terror started. Efforts are already underway to seal the Pak-Afghan border which could significantly stop the inflow of proxy terror groups from neighboring territory.

Pakistan also has a pivotal regional ally in China. An ally who has invested far too heavily in the country to allow domestic policy to be dictated through US interests in the same way it used to be. United States pressure on Pakistan also comes at a time when hopes of a Russian-US reconciliation have evaporated and Pakistan is already looking north to a potential ally in Putin.

The Trump Administration has also taken two other problematic, yet important, policy initiatives. It has called for more troops in Afghanistan and has invited India as a stakeholder in the Afghanistan peace process.

The call for more troops will please Pentagon. It is a signature move for a Republican president at a time of crisis. Yet, the addition of nearly 5,000 troops will do little to change the balance of a war in Afghanistan that has proven to be all but unwinnable. It is perhaps another effort to reverse any policy that the Obama administration held dear.

However, given the lack of achievements hundreds of thousands of troops have made in the region in the past, there is little hope for the United States or its allies to conclude the effort with more troops. It is only through a comprehensive political dialogue that peace can be restored to Afghanistan.

It is also of note that the Trump administration has finally and formally accepted Indian ambitions to become a stakeholder in the Afghanistan peace process. This may be the most problematic policy declaration from the Trump speech for Pakistan.

Indian involvement in Afghanistan will destabilise the security balance in the region. It will further rejuvenate the use of Afghan territory to lodge proxy war in the Af-Pak region. Pakistan has already made formal complaints against Indian agencies using Afghanistan to plan attacks in Pakistan. The United States' eagerness to include India shows a clear signal that it is ready to sideline Pakistan from the Afghanistan end-game. Yet, any long-term solution in Afghanistan can only be successful with Pakistan's support given its decades-old involvement in the conflict and strategic ambitions.

India's involvement in Afghanistan will also strengthen Chinese resolve to become a key stakeholder in the Afghanistan end-game. While news of a Sino-Indian border conflict continues to pour in, the deteriorating relationship between the two regional powers will embody itself through conflict in Afghanistan.

There is little doubt that the Trump administration has sought to pressurise Pakistan by making India a stakeholder in Afghanistan and ignoring Pakistan's counter-terrorism efforts. Yet, even the deployment of additional troops will be unfruitful if Pakistan is excluded from any sustainable peace effort in the region.

Published in The Express Tribune, August 24th, 2017.

Like Opinion & Editorial on Facebook, follow @ETOpEd on Twitter to receive all updates on all our daily pieces.