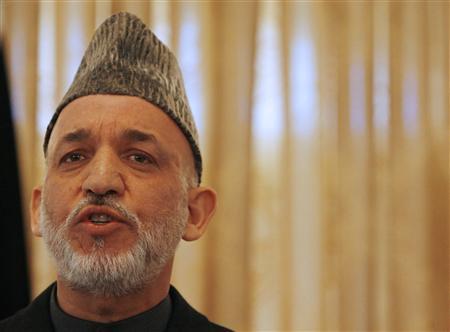 ---
Former Afghan President Hamid Karzai has strongly opposed the new US strategy towards Afghanistan, saying it is against peace and the national interest of the country.

I very strongly oppose the new U.S. strategy towards Afghanistan as it is against peace and the national interest of #Afghanistan. The...

— Hamid Karzai (@KarzaiH) August 22, 2017
...strategy excludes bringing peace and prosperity to Afghanistan and is focused on more war and rivalry in the region. U.S. must seek...

— Hamid Karzai (@KarzaiH) August 22, 2017
...peace and stability in Afghanistan rather than extending conflict and bloodshed in #Afghanistan and the region.

— Hamid Karzai (@KarzaiH) August 22, 2017

US President Donald Trump on Monday committed the US to an open-ended conflict in Afghanistan, signalling he would dispatch more troops to America's longest war and vowing "a fight to win".

Trump insisted that others - the Afghan government, Pakistan, India and NATO allies - step up their own commitment to resolving the 16-year conflict.

Pakistan's status as privileged ally in question: US

Karzai has previously expressed his discontent with American military actions since January. The former Afghan president, who also vowed to "stand against America", retains considerable influence within Afghanistan's majority Pashtun ethnic group, to which President Ashraf Ghani also belongs.

In April this year, Karzai had accused his successor of committing treason by allowing the US military to drop the largest conventional bomb ever used in combat during an operation against Islamic State militants in Afghanistan.

The US Air Force dropped a 9,840 kg Massive Ordnance Air Blast Bomb (MOAB) - also dubbed the Mother of All Bombs - packed with 11 tonnes of high explosives, on a suspected IS target in the war-torn country on April 13.

"How could you permit Americans to bomb your country with a device equal to an atom bomb?" Karzai had said at an event in Kabul, questioning Ghani's decision.

"If the government has permitted them to do this, that was wrong and it has committed a national treason."