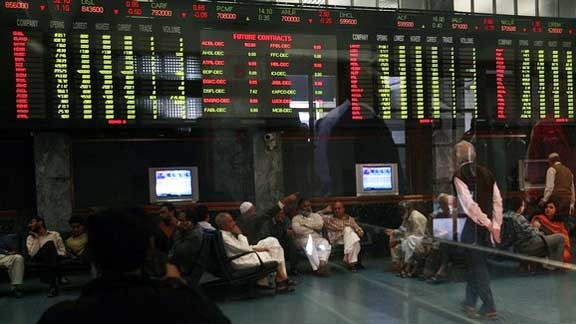 ---
The KSE-100 hit a near twomonth low on Thursday due to escalating political violence in Karachi and pressure from regional markets which drove prices down.

The index went down 56.64 points to close at 9,993.40 points. The last time the KSE index ended this low, was on March 22 when it closed at 9,963.35 points. Even higher oil prices and improvement in oil production from Nashpa, one of the biggest oil discoveries in recent times, could not support oil stocks, said Topline Securities analyst, Furqan Punjani. Volumes were a mere 66 million shares, said JS Global Capital analyst, Ahmed Rauf. Turnover decreased by 44 per cent as compared to 118.28 million shares traded the previous day.

Seventeen people died on Wednesday during clashes between rival political and ethnic factions in Karachi. People are afraid that the ethnic violence could escalate to the point where it rivals the situation in Karachi during the 1990s. Investors were also waiting for the announcement of Pakistan's monetary policy for the next two months on Monday, according to dealers.

Analysts expect the central bank to keep its policy rate unchanged at 12.5 per cent as inflation still poses a threat. "The market witnessed selling pressure across the board due to worsening law and order situation in the city along with continued selling pressure in international markets," said Punjani. The lack of positive triggers on the macroeconomic front, falling international markets and uncertainty over the upcoming budget kept investors on the sidelines, said Rauf.

He added that the bourse had ended in the negative zone after a late session of profit-taking by investors. Stocks traded were varied but the banking sector was traded more than others and led volumes. Total exchange value decreased by 38 per cent to Rs2.48 billion on Thursday as compared to Rs4.02 billion on Wednesday. Out of the 400 shares traded on Thursday, 137 were up, 243 were down and 20 remained unchanged. The oil sector remained negative amid falling international oil prices.

And NML and NCL closed 3.9 per cent and 2.4 per cent lower respectively, as the All Pakistan Textile Mills Association keeps protesting over the 15 per cent regulatory duty. "Lotte Pakistan dominated volumes due to declining international PTA prices," said Punjani. Its turnover was 11.26 million shares. Its share lost Rs0.31 to end at Rs9.65. Lotte has gone down for three days straight. It was the third most traded stock yesterday and lost Rs0.18 to end at at Rs9.94.

And before that the stock had been the volume leader with 10.03 million shares and had lost Rs0.19 to close at Rs10.05. NIB Bank was the third volume leader with 4.07 million; its stocks went down by Rs0.08 to end at Rs3.56. NIB bank went down yesterday as well, It was the volume leader with 16.26 million shares and went down Rs0.14 to close at Rs3.61.

Published in the Express Tribune, May 21st, 2010.