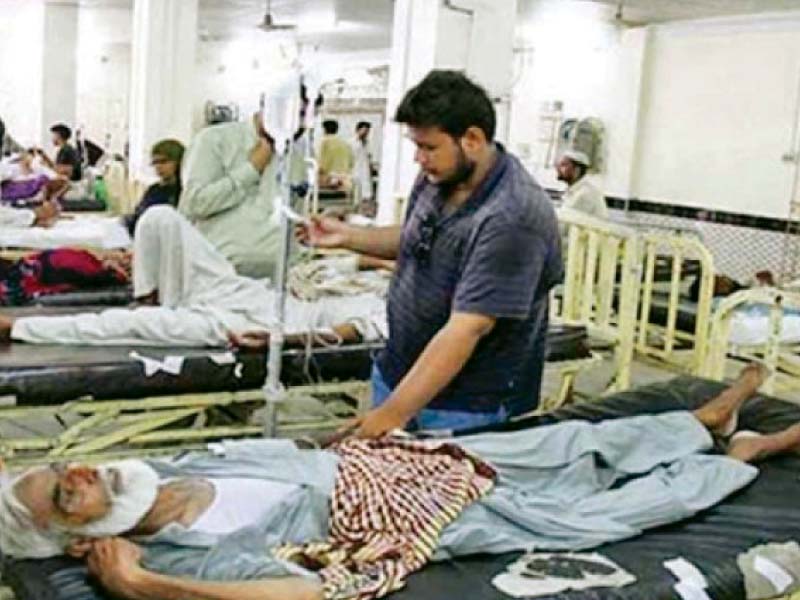 ---
ISLAMABAD: Poor patients were made to wait for hours on end to get outpatient department (OPD) slips to visit any physician at Pakistan Institute of Medical Sciences (Pims) as one of the counters was unattended and no employee was there to issue slips.

There are two counters at the main hospital building wherein designated non-medical staffers issue slips to the patients to visit any particular department and physician.

Thousands of patients visit the hospital from peripheries and surrounding cities and  creating a huge rush of people if even one counter stops issuing slips.

As Monday is the  first working day of the week there is always an unprecedented rush of patients and long queues of patients are seen in front of every department  waiting for their turn. But the patients were made to wait for hours at the entrance on Monday as no one was issuing slips.

"I have been waiting here for the OPD slip since 8 am but its 10 now and there is no one to issue slips", said Asia, one of the patients who had come from Tarnol, Islamabad. They should have arranged alternate staff to issue slips if the concerned employee was absent but there seemed to be no administration as no one has visited us or taken any notice," she complained.

Elderly patients were the worst affected as there was no designated counter for them. We have been waiting for hours but there is no one to issue slips, said an elderly patient, Abdul Raheem. I have no stamina to queue up in the second row for whole day as there is so much suffocation due to overcrowding and lack of proper ventilation and cooling, he said.

By the time patients managed to get slips the doctors had stopped seeing patients.

The hospital administration maintains they have severe shortage of staff as there have been no new appointments for the last five years. The employees working already are now reaching .retirement age and on the other hand rush of patients has been increasing with every passing day.

The clerk who was supposed to be at the counter was admitted himself at the hospital and we have no alternate staff to manage the affairs if someone is not available, said Dr Mutahir Shah, Director OPD at Pims.

About three to four thousand patients have been visiting the OPDs daily only in the main hospital apart from different centres and it has become virtually impossible for us to manage the load of patients. Nearly 900 seats of various cadres are vacant, he said, that have not been fulfilled due to the lingering issue of hospital's merger with the medical university being run on hospital resources.

The hospital infrastructure is crumbling under patient load and there is a need to build five more such hospitals to manage healthcare effectively, he said, or else 1800,000 annual visitors will lose gradually this facility as well.

Published in The Express Tribune, August 22nd, 2017.
COMMENTS
Comments are moderated and generally will be posted if they are on-topic and not abusive.
For more information, please see our Comments FAQ