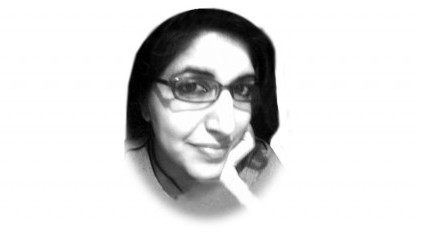 ---
In the past two years, I cannot recall the number of times I have encountered the expression "promote Pakistan's soft image". Apparently the elite answer to Pakistan's terrorism dilemma revolves around adding some much needed counterweight to our international image in lieu of book releases, rock concerts and musicals on stage. I am all for the arts though I have never really understood how this acts as a solution to the country's problems. By logical deduction, the constant call for a 'softer' look would insinuate that if we can somehow fix our international image, we can alter the reality of what Pakistan is. Are we really that naive?

The words 'hard' and 'soft' are very important antonyms for how we define ourselves today. The connotations — both subliminal and tangible — attached to the words provide interesting scope for analysis. The word 'hard' is used to preface tangible sets: 'hard truth', 'hard reality', 'hard facts', 'hard copy'. 'Soft' on the other hand is associated with weakness, frailty and the variable: 'soft in the head', 'soft images', 'soft copy'. Conceptually one is considered strong and the other weak, one is considered serious and the other frivolous. When placed in the present context of Pakistan, these words translate accordingly.

The hard facts of our country's circumstances revolve around crippling poverty, lack of electricity, of water and of justice all overshadowed by the looming presence of terrorism. The softer side shows its resilience in that we still have our music and cultural crevice to fall back on. It is ridiculous, however, to assume that the latter is a solution to the former or in any way offers equal counterweight. Our artists need to promote the diversity that exists in Pakistan. We, however, need to do more without insinuating that that the majority indulges in 'soft' cultural pursuits since that has always been the domain of a privileged few.

So what, then, is Pakistan's 'soft' image? A mirage to conceal the country's devastating reality or a genuine opposition to counter the 'hardness' of our predicament with softer, kinder realities.

Published in the Express Tribune, May 21st, 2010.
COMMENTS
Comments are moderated and generally will be posted if they are on-topic and not abusive.
For more information, please see our Comments FAQ