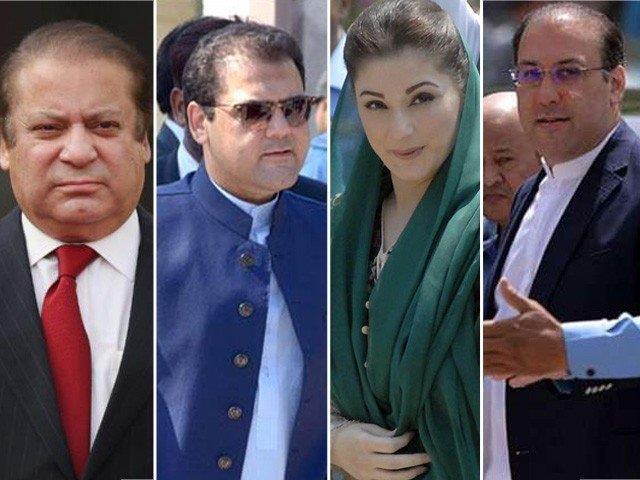 ---
ISLAMABAD: The Sharif family members on Sunday failed to show up to record their statements with the National Accountability Bureau in a case related to their Avenfield properties.

NAB Lahore had issued summonses on Friday to deposed prime minister Nawaz Sharif, his sons Hussain Sharif and Hassan Sharif, daughter Maryam Nawaz, and son-in-law Captain (retd) Muhammad Safdar directing them to appear before the investigation team to record their statements.

"Summonses were properly received by the accused, but no one appeared before the investigation team on Sunday," NAB spokesperson Nawazish Ali Asim told The Express Tribune.

In light of the July 28 judgment of the Supreme Court in the Panamagate case, NAB is currently preparing a reference against the Sharif family related to their London properties – flat numbers 16, 16-A, 17 and 17-A at Avenfield on Park Lane.

The SC had set a deadline of September 8 (within six weeks of the announcement of the July 28 judgment) for NAB to file this and three other references against the accused.

The three other references are related to Azizia Steel Company and Hill Metal Establishment (to be filed against Nawaz Sharif and his sons), foreign companies owned by the Sharif family (to be filed against Nawaz Sharif and his sons), and a third reference against federal finance minister Ishaq Dar for possessing assets and funds beyond his known sources of income.

References against Sharifs: NAB wants to quiz JIT

A NAB Lahore investigation team headed by NAB Director Amjad Majeed Olak has been tasked with preparing a reference related to the Avenfield properties. NAB Lahore DG Saleem Shahzad is supervising the team.

A senior NAB official said Sharif family members were asked to record their statements under Section 161 of the CrPc between 10am and 2pm on Sunday. He said investigators waited for almost four hours but none of the accused turned up.



Not the first time

Nawaz, Hussain, and Hassan were previously asked to appear before NAB on August 18 in a reference related to Azizia Steel Company and Hill Metal Establishment, where they also failed to show up.

Instead, the Sharifs, through their lawyer, submitted a written application to NAB which said they would not appear until a decision is issued by the apex court on the review petitions they have filed against the July 28 judgment.

"My client Mian Muhammad Nawaz Sharif has been apprised of the above-cited notice [on August 18] and has instructed me to convey his inability to appear before the Combined Investigation Team as he has already filed a review petition against the judgment dated 28.07.2017," said the application filed by Sharif family in response to summons issued in the Azizia case.

"In the case of acceptance of the review petition, the proceedings initiated by NAB shall be an exercise in futility," Sharif family had told NAB through its lawyer.

NAB seeks banking details of Dar, family by 25th

Commenting on the situation, a senior NAB official said the bureau would not follow the routine procedure of sending multiple summonses to accused, given the deadline of only six weeks set by the apex court.

He claimed that if the Sharif family continues to skip the ongoing process, NAB would be left with no option but to act unilaterally and file references against them and others with the accountability court without recording their statements.

"NAB usually dispatches summons to accused with a gap of 15 days, but in this case, NAB had 42 days to prepare and file reference, of which 23 days have already passed," he said. He added that within a couple of days, NAB would decide whether to proceed unilaterally or approach some forum for further advice on handling the situation.

Showtime for the Sharifs

NAB summons Dar

In a related development, NAB has also summoned federal Finance Minister Ishaq Dar to record his statement in connection with "investigations against him for the accumulation of assets and funds beyond known sources of income".

Dar has been asked to appear before investigation team on August 22 (Tuesday).

The SC had directed NAB to file a reference against Dar for possessing assets and funds beyond his known sources of income. It was suggested in the light of the Joint Investigation Team's report that had observed that Dar's wealth had swelled 91 times within a short span of time and such unrealistic increase in wealth needed to be investigated.

NAB has already asked the State Bank of Pakistan to provide full bank account details of Dar and his family members to NAB till August 25. Details such as account statements from inception to date, all debit and credit vouchers, records of closed bank accounts, and any other facility granted to the mentioned persons have been sought.

Meanwhile, NAB had also contacted the Securities and Exchange Commission of Pakistan (SECP) to seek details of seven companies – Hajveri Holdings, CNG Pakistan, Spencer Distribution, HDS Securities, Gulf Insurance Company, Spenser Pharmacy, and Hajveri Hodarba Management Company – which all are owned by Dar's relatives.


COMMENTS (8)
Comments are moderated and generally will be posted if they are on-topic and not abusive.
For more information, please see our Comments FAQ