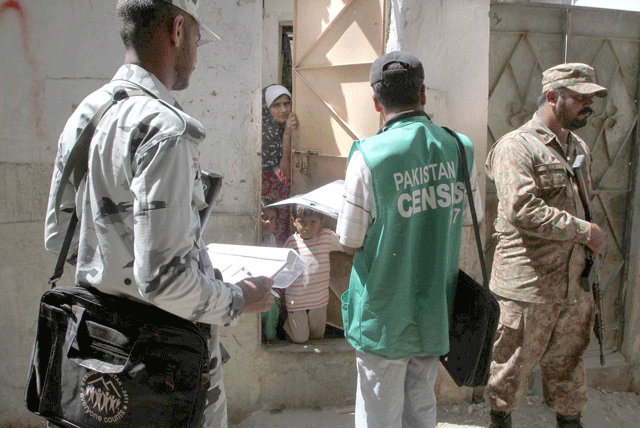 ---
For any developing country, one of the most important responsibilities of the government, in addition to maintaining law and order and economic growth, is to make sure the citizens of that country have proper access to water, sanitation, transportation, hospitals and schools amongst other things. In order to plan for the future for any city or country, one needs to know what the expected population levels would be at a date in the future. But to do that one must know the size of its current population otherwise all planning or economic forecasting tools are useless.

Pakistan's last census was held nearly 20 years ago (1998) when the population was tagged at 132.4 million. You will be shocked to know that people of the subcontinent have been conducting censuses every decade since 1881 during the Colonial Raj. Post-independence census has been conducted five times in 70 years, none in the last 20 years. The table below shows the years the census were conducted:




Army to crosscheck census data for transparency

The estimate of Pakistan's population for 2017 being used by different organisations has been ranging from the World Bank at 193.2m to CIA Factbook at 202m. Population growth rates ranges from 1.45% per annum as per CIA Factbook to as high as 2.0% by the World Bank. A half a per cent wrong estimate in population growth rate could throw future estimates out by as much as 20m to 40m people. What if our population is more than 220m and our growth rate is higher than 2.5%? In that case, the government's existing planning would be deemed impractical.

In addition to the proper distribution of resources across the country/provinces, the political representations in the national and provincial assemblies are also allocated as per the population, according to Article 51(5) of the Constitution. It states, 'the seats in the National Assembly shall be allocated to each province, the Federally Administered Tribal Areas and the federal capital on the basis of population in accordance with the last preceding census officially published'.

If a country has not conducted a census for nearly 20 years, the political representative may not reflect the ground reality. The census ensures that each community gets the right number of representatives in the government and informs your socioeconomic development planning. The Federal Budget, Vision 2020 or 2025 launched by our government are based on shaky foundations since they are based on population estimates rather than actual numbers and population distribution across provinces, cities and districts.

The uses of census data are never-ending in the development of a proper and equitable society. Here are some of the reasons why a population census is important for any country:

Population density: Once we know the density of our population across districts, it will enable the government to properly plan education, health and infrastructure projects.

Population demographic: Helps identify sex, age, geographical and occupational distribution of the population which is used in socioeconomic studies and projects.

Economic planning and development: Based on figures from population census, economic growth planning as well as development of the country is carried out properly and effectively.

Income distribution: Identifying level of poverty across the country and how to properly plan an equitable management of income distribution.

Employment planning: Census provides statistics on employed people which helps the government to know how many employment opportunities needs to be generated.

Government revenues: The government finds how many are taxable adults which will help in estimation of the expected revenue across the country.

Education: Critical to know literacy rates across the country so proper planning and expansion of primary, secondary and tertiary educational institutions can be carried out.

Health services: For an effective healthcare system one needs to have a working knowledge on the number of doctors, nurses, hospitals, health centres, hospital beds, etc, to ascertain where the real need is for expansion and investment.

Labour access: Census helps provide availability of labour across rural and urban divide. It helps in setting up vocational training centres as well as in planning future industries and mills.

Special needs people and minorities: Critical to know and help manage the needs of people with disabilities and other physical challenges. Also helps in identifying various minorities and help with their transition into mainstream activities.

Security high as first census in 19 years launched

Housing: Using census data government can do better planning of housing needs and associated amenities.

Transport: Census helps the government in planning the type of transport facilities required in different cities and across the country.

Recently, there has been news that the authorities are thinking of not publishing the census results anytime soon. Unofficial figures suggest that the population is expected to have exceeded all estimates and has reached 217m, a whopping 2.6% population growth (during the same period the world population has grown by less than half or 1.2% per annum), and cities like Karachi have disproportionally increased in population. This is shocking as all the estimates we are using for economic planning are much lower. Hence, these plans need to be scrapped.

Census is the only tool which can help us plan effectively and accurately for our collective future. The results were to be released by August 2017 but there appear to be unexpected delays in releasing the same — this can only be due to mounting political pressure to protect their electoral representation. We need to take a stand as citizens of this country — the census procedure were paid by our money and we deserve to see the results. They are in the interest of the public and failure to reveal them is almost criminal.

Published in The Express Tribune, August 19th, 2017.

Like Opinion & Editorial on Facebook, follow @ETOpEd on Twitter to receive all updates on all our daily pieces.
COMMENTS (2)
Comments are moderated and generally will be posted if they are on-topic and not abusive.
For more information, please see our Comments FAQ