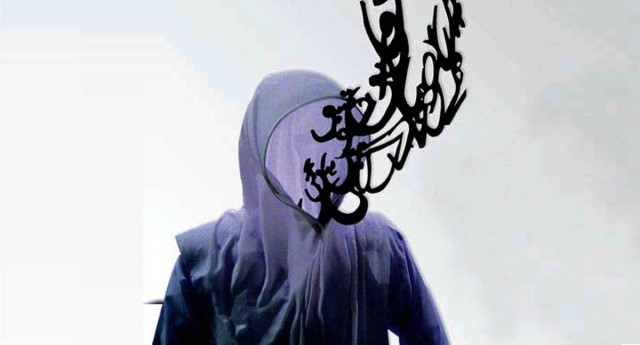 ---
KARACHI: "By appropriating the revolutionary poetry by Mirza Ghalib and Faiz Ahmed Faiz, I want to inspire women to think and speak for themselves and not believe what has been dictated to them by society," said artist Simeen Farhat, whose work goes on display at the V M Art Gallery on Friday, May 21.

The exhibition, titled "Vitalised Verses", is a body of installations and drawings by Farhat that explores a woman's thoughts and beliefs hidden behind a veil. Farhat's women attempt to transcend through the trappings of culture and the dictation of religion. The artist has used text as a "cluster formation that translates [a woman's] linguistic power into an explosion of visual energy.

The text is either paired with hollow figures or [displayed in isolation] as layered , condensed, chaotic forms." The discourse around the veil has been extensively explored by countless female artists so as to create an impact by pushing it further. "This has been Simeen's greatest challenge," said Niilofur Farrukh in her curatorial note. Farrukh added that Farhat's life-size forms create a dialogue with the viewer and allow people to experience a veiled woman's physical limitations, accentuated with layers of fabric and a communal mindset that pushes women to the brink of society.

Most importantly, the work echoes the contradictions of a nation that exhuberantly voices verses for freedom and anti-establishment sentiments, yet is unsympathetic towards women who are trapped by medieval codes of control, said Farrukh. The exhibition will continue till Saturday, June 12, between 10:30 am and 7:30 pm (except Sundays).

Published in the Express Tribune, May 21st, 2010.