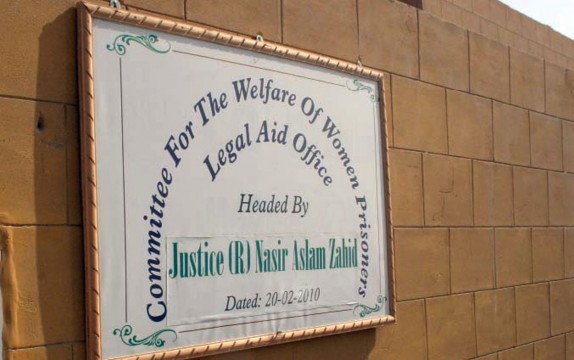 ---
KARACHI: Twenty-one-year-old Jamal Siddique has been locked up for eight months on what he called a false charge.

Like so many other prisoners, he had no way to ensure a speedy trial. But now, thanks to a legal aid centre, Siddique said that there is hope for freedom. According to the young prisoner, he was stopped by the police on his way back from work around 2 am in Orangi town. The police started interrogating him and the next thing he knew, Siddique was being hauled off to the lockup. "They blamed me for stealing someone's motorcycle," he said. "The police asked me to pay Rs50,000 as bail but the sum was too high," he said, explaining how he was the sole supporter of his grandmother, whom he has not even been able to contact in these eight long months. "If I had known this would have happened I would have never put in the extra time at work," he lamented.

His tale, said Advocate Ghulam Mustafa, who is working at the legal aid Centre in Malir, is no different from other under-trial prisoners (UTPs) who have been charged with made-up crimes by the police as a means to earn extra money. "Most of them are arrested from low-income neighbourhoods in Karachi and then thrown into the Malir Jail where they await their trial," he added. According to Justice (retired) Nasir Aslam Zahid, who started the centre on March 1 this year. "Legal aid is not very common in South Asia," he said. Most prisoners who cannot afford lawyers are not provided with the attorney that the government owes them. The prisoners might be handed contact cards of lawyers, but the fee would be so high that these men had no chance of getting a quick and fair trial, Zahid said.

However, the legal aid centre set up by his efforts is trying to change the larger, sorrier picture of justice in the country. At least 100 prisoners at the Malir Jail have been provided help by the centre, where around 35 lawyers are working to help out prisoners, especially those that have not been to trial yet. "In a majority of the cases, people have been implicated in petty crimes of theft and use of drugs or alcohol which do not require serving a term of more than three to four years," explained superintendent of the jail, Ashraf Nizamani, "But because they had no legal aid earlier, they had to languish for several years in prison." The lack of speedy justice might be one of the reasons that a jail that has an official capacity of 893 inmates is stuffed with 1,917 prisoners instead.

Zahid said that after the success of his legal aid centre in Karachi Central Jail, the Committee for Women Prisoners' Welfare decided to set up a centre at the Malir prison to help the inmates there as they were neglected by the authorities for too long. "The central prison has all the facilities because it is located in the heart of the city and ministers are able to pay a frequent visit. But this jail is located on the outskirts of Karachi." Zahid has recently set up a medical complex at the prison as well. He added that legal aid is absolutely free of charge and the committee is considering expanding the facility to all the 22 jails in Sindh on the request of the Sindh government, who is willing to help Zahid out financially in the project.

All lawyers working for the centre are paid, Zahid said, adding that they tried to hire younger lawyers. It is good for these lawyers because they get to learn a lot, he said. They deal with high profile cases including murder cases which they would never get a chance to handle in expensive law firms. According to Zahid those who opt to work at legal aid centres have to put in a lot more effort since they do not have clerks helping them.

Published in the Express Tribune, May 21st, 2010.