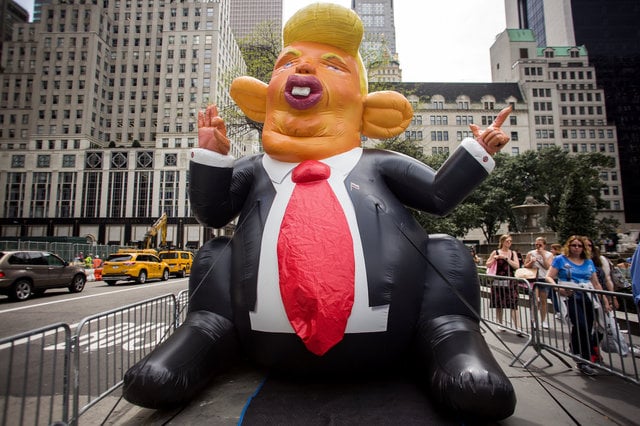 ---
Hours before US President Donald Trump arrived in his hometown New York City on Monday, a giant inflatable rat in his likeness was set up just two blocks away from his Trump Tower high-rise residence.

The "Trump Rat" designed in the likeness of the president features a long tail, buck teeth, a Russian flag lapel pin and Confederate flag cufflinks.

The 15-foot inflatable rodent was designed by artist Jeffrey Beebe, and was brought to fruition with art gallery BravinLee programs and a Kickstarter campaign that raised more than $10,000 in the spring.

The gallery owner, Karin Bravin, who installed the piece with her husband John Lee, claimed a representative from the police department helped them place Trump Rat on the sidewalk.

China gives Trump the bird

Bravin and Lee said the message they were trying to convey wasn't necessarily political.

"Political discussion is one for me where people trade ideas about what the actual policies are, on the issues, I don't think that's what we're going here," Lee said.

"We want to ridicule this very thin-skinned, very incompetent guy who has no business being President of the United States."

The rat went up around Monday afternoon and immediately began drawing crowds of selfie-snapping tourists and office workers out for lunch.


Someone made trump into a rat. I'm generally crying with laughter right now 😂 #trumprat

— lu ⎊ | saw endgame (@LuEndgame) August 15, 2017
Okay The a rat Donald Trump in New York 🤣 pic.twitter.com/khVQJglgr1

— Brad (@BradsOnline_) August 15, 2017


Inflatable Trump chicken spotted outside White House

Mo Gelber, a Crown Heights resident passing by the Trump Rat, said it was "great."

"[The president] is supposed to come to New York today, he's probably gonna have to drive past it and see it and know that people don't like all the things that he represents," Gelber said. "It sends a good message."

The rat comes at the heels of a giant inflatable chicken, which made headlines last week when it was set up by protesters in a park near the White House.
COMMENTS
Comments are moderated and generally will be posted if they are on-topic and not abusive.
For more information, please see our Comments FAQ