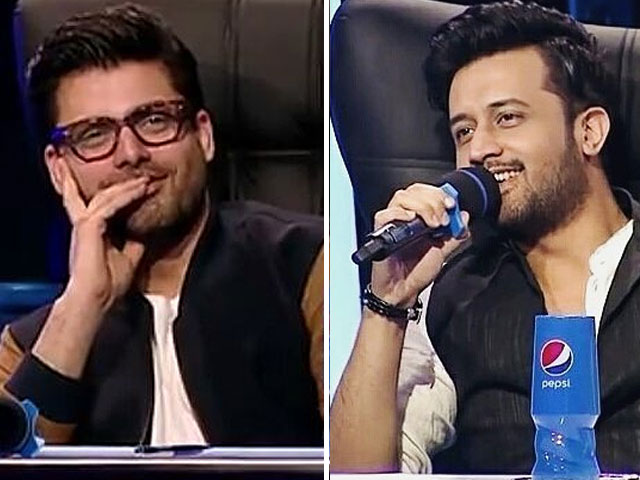 ---
KARACHI: The light rain pitter-pattered on the car roof. Rain drops, one after another, obstructed the vision through the windscreen. Lack of street lights in a rainy Karachi night can make it tough to navigate. Yet, here I was, finally after swimming through the inky reflections of nothingness on the wet roads, at the venue of Pepsi Battle of the Bands (BOB)

As I entered, sounds faded in and the thumping beats heard. Just outside the studio, people are seen to be running for shelter due to rain or the work force fetching necessities. Inside the studio, it's a whole different world. A band is playing on the stage; the jury of Fawad Khan, Atif Aslam, Meesha Shafi and Shahi Hassan is sitting in their position, attentively watching the performances.

The stage comprised of two rotating blue guitars on the sides and a drum set in the center. Ayesha Omar looks dapper, hosting the show. The live audience is pumped up. But the best part is not perhaps the technicalities or how good the stage looks, but the passion from the judges' end.

Fawad Khan makes triumphant return to music

It's rare to see the jury of a reality TV show getting so involved with the participants. Their hands-on approach in helping and in a way, mentoring the bands, was a fresh sight to see. It was even to the extent that when Fawad and Atif even came on stage to fix the sound themselves when one band faced sound issues mid-performance. Fawad took the guitar himself from the participant and resolved the issue. Whether BOB will prove to be a success is too early to say, but the jury's complete disregard of the so-called boundaries based on star power and jury/contestant, and full involvement for the love of music is definitely bringing a change of norms in our local music industry.

Atif, as passionate as ever, said he was excited to be a part of the project because "I get to hear a lot of new musicians and I'm able to get inspired by them as I hear different tones and different genres. It's a treat to hear all of them."

He said the contestants were fantastic and he was looking forward to seeing how versatile they could be as the show progressed. "I think the perfect musician has to be versatile, play all sorts of genres. I'm looking forward for that. The number band of Pakistan has to have that unique sound and be willing to explore their own music."

For Meesha, the best part of being involved in the project has been to see so many young kids and musicians making music. "Obviously, these bands existed before we announced the show, and they've been making music without any support or platform," she said. "Most of them have experience in playing, but not in performing."

As a vocalist, the Bholay Bhalay hitmaker is attracted to powerful voices. "I like big, powerful voices and they've influenced me a lot. I incorporate that style in my singing as well. I'm looking forward to that. There are a few of them in the bands but in this show, we're not just looking for vocalists, we are looking for complete packages, whole outfits who stick together where every member has a role to play."

Teaser of Fawad Khan's comeback song is out and it also features Atif Aslam!

Shahi, co-founder of legendary band Vital Signs, said this show was a necessity in order to bring back the band culture and emphasised on the importance of bands in the music industry. "If you look at it, a lot of musicians go solo. But they all started with a band. It's the same with Fawad and even Atif. Even Junaid Jamshed went solo, but the band still stayed. Of course, there is no steadfast rule or anything but solo artists have a more limited appeal than bands. Music often becomes monotonous no matter how good you are. As a band, things stay fresh with different input from all members."

Shahi is looking for good original songs to come out of bands. "Covering a song is not easy, but relatively easier than producing an original. The entire band offers input and has to be creative when making an original. I'm trying to be educational in my process and give feedback to the bands who have worked hard to come on the stage. So even if they don't win, they don't just go back without any insight, and it helps them improve."

It's great to see what and how jury member brings something unique to the table. Meesha said the dynamics between the jury were amazing although it was her first time working with Fawad. "I've worked with Shahi before and I'm working with Atif for the first time too but we have been friends for a long time. So, the jury is chilled out and witty. We have a lot of fun up there. We all have different tastes and opinions and whatever we take away from the performances."

Watching the judges critique the contestants, one saw how much importance they gave to all aspects of music production – from the composition and arrangement to lyrics, content and even the stage presence and entertainment factor to pull in the live audience. Meesha especially believes in quality lyrics, which she thinks is important to make a song memorable.

"In our music scene, there are two polar opposites. Either you have kache pakke lyrics or some really heavy stuff, like Sufi verses, qalams and qawwalis, which have a lot of history and culture and meaning," she said. "I'd love to see the bands fall somewhere in between the two sides and listen to some mature, original lyrics not just the verses taken from already written poetry."

Fawad Khan gets emotional about his return to music

Atif reflected on his experience when he was starting out. "For the past 10 years or so, we have been craving for good music and good musicians and it is high time we appreciate that so many bands are coming up. We haven't even started an industry yet and we just bash each other," he said. "This is why I've supported all my juniors because I never got it from my seniors. Initially, I was not respected and appreciated by them. But my fans did and that's how I made my own path."

Atif believes the doors into the music world closed and he was one of the last ones to step in. "There was no one to appreciate it. It's not that people weren't making music. We got about 100 bands to audition for the show, but there were no platforms back then. So now, at least something is happening and people should definitely look forward to it."

At the same time, it remains true that the industry has not produced any new mega stars in the last decade or so. There has been no new Atif Aslam or Fawad Khan or Ali Zafar in the last decade. But Atif is more concerned about something else. "We should focus more on producing good music and new legends rather than the next Atif or next anyone. I'm more concerned about that."

She believed consistency is the key to building the future of local music industry. "This is just the first season but you need a few years to get the ball rolling. So, gradually, more people will know and talk about it. But again, it's already quite big for the initial stage that it is in."

Out of the 100 bands who auditioned for the show, only 36 were shortlisted who will then be cut down to 8. With 2 eliminations each week, the final two bands will compete in several challenges laid out by the jury to decide the number one band of Pakistan. The key? According to the music producer Faisal Rafi, "We're just looking for new faces, new music to populate this unpopulated music scape. They'll go through challenges but most of all, they just have to create new music and be themselves."

Have something to add in the story? Share it in the comments below. 
COMMENTS
Comments are moderated and generally will be posted if they are on-topic and not abusive.
For more information, please see our Comments FAQ