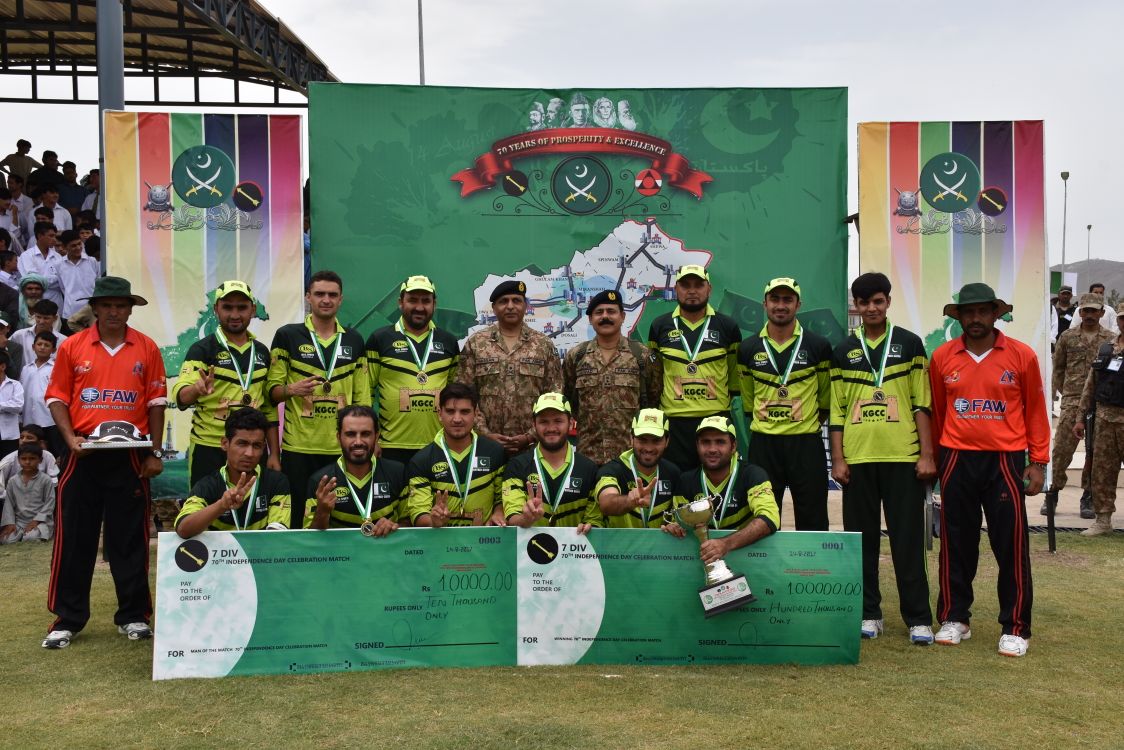 ---
KARACHI: Pakistan's sports community celebrated Independence Day by staging a variety of events across the country, with the day's highlight being Maria Toorpakai's Azadi Squash Cup win at Lahore's Punjab Squash Complex.

Maria, the world number 83 who represents WAPDA, scored a dominating 11-9, 11-9, 11-8 victory over Higher Education Commission's (HEC) Faiza Zafar in the final.

She later said that she hopes her example would boost the confidence of and inspire girls in other field.

"Firstly, I want to congratulate the nation on the Independence Day," said Maria. "I hope Pakistan grows in every field at a good pace, but I believe that women should come to the forefront and take part in educational and sports activities too.


No better way to celebrate independence than defending country: COAS


She continued: "I've won medals for Pakistan and I want to continue to do so. I want to thank the organizers as well for giving us a good event. I hope these events can boost the confidence of the girls."

Meanwhile, Tayyab Aslam triumphed in the corresponding men's championship, defeating Pakistan Air Force's Farham Zaman 11-9, 11-9, 6-11, 9-11, 12-10 in a marathon match.

In his post-match comments, Aslam said that it had been a tough year for him due to injuries but he is trying to make a comeback.

In scrabble, Pakistan's former World Youth Champion Moizullah Baig grabbed the Independence Day Scrabble Tournament title at Beach Luxury, winning eight matches with a spread of 1062.


Independence day wrangle: Grapplers to vie in Jashn-e-Azadi Dangal   


The newly crowned national champion Sohaib Sanaullah finished second, proving that his big win last month was not a one-off performance; he also won eight matches with a spread of 393.

In Islamabad, Ahmer Saldera clinched the Azadi Tenpin Bowling Championship with a lead of 392 pins in two games, while Muhammad Junaid grabbed silver with 366 pins and Saleem Baig settled for bronze  with 347 pins.

Pakistan Tenpin Bowling Federation (PTBF) Secretary Ijazur rehman revealed that it is a tradition for the federation to hold an event on August 14 as it helps in bringing the sport closer to new players as well.

"Our aim is to celebrate the Independence Day with sports lovers and tenpin bowling players," said Rehman. "This is also a great way of promoting the game to new players at grass-root level."


'Ae Watan Tera Bhala Ho': Pak Army releases special song for 70th Independence Day


Pakistan Netball Federation (PNF) also held a girl's exhibition match between PNF Elite Academy and Nizamabad Netball Academy at Pakistan Sports Board Coaching Centre in Karachi, with the match ending in a 12-12 draw.

Independence Day celebrations, in the form of sporting events, also took place in FATA under the auspices of Pakistan Army, with the highlight being a friendly cricket match played between Khyber-Pakhtunkhwa and NWA teams at Miraan Shah's Younus Khan Cricket Stadium, which drew a strong crowd of over 20,000.