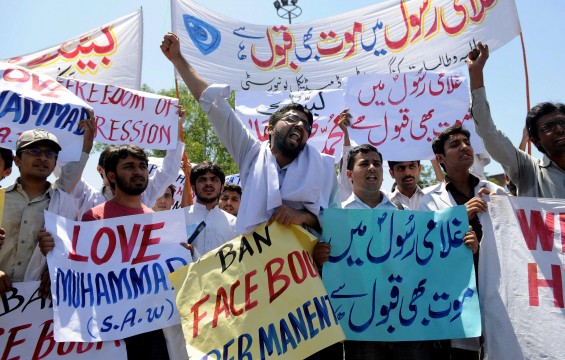 ---
LAHORE: Protests were staged across Pakistan on Thursday to condemn Facebook for allowing a competition to draw blasphemous caricatures feature on the site.

A demonstration was held against the social networking site outside the National Press Club in Islamabad. The local leadership, as well as the women wing of Jamat-e-Islami, along with workers of Jamiat Itehad-ul-Ulema, took part in the demonstration.

Protesters holding banners and placards demanded the government to take up the issue on the international forum. They also demanded the government to end diplomatic ties with countries responsible for the blasphemy.

In Lahore, the Ahl-e-Sunnat Tanzeem took out a rally from Daata Darbar to Charing Cross, chanting slogans against the government for not taking up the issue seriously. Protests were also staged in several areas of south Punjab including Faisalabad where doctors of Allied hospital and students of Punjab Medical College took out a rally.

A rally was also taken out in Quetta by the JUI and several rallies were taken out in Peshawar.

For a complete set of the ongoing protests, click here.