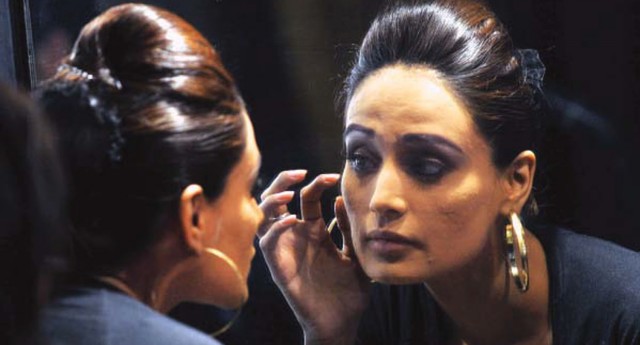 ---
If there's one thing we can count on desi aunties for, it's their unsolicited advice on our apparel/weight/marital status.

The worst, however, is when they feel it's their utmost duty to inform us about the state of our skin. So many of us have heard the standard, "Hai beta, what has happened to your complexion? Oho. You better put on some *insert ludicrous desi home remedy here* and scrub." It's as though we don't own mirrors and have no clue how tired we look, how much weight we've gained, and as in this case, how our skin has erupted.

But, as much as we want to dunk these outspoken aunties into the nearest bowl of nihari, they do make a fair point. Scrubbing one's face with an exfoliant is truly crucial for good skincare. Other products you use may help your skin at some level, but they aren't performing at full potency. Unless you remove the topmost layer of dead cells on your face, no expensive cream or serum you slather on will make a difference. We understand most women are loath to add yet another step to their regimen.

But, ladies - trust us on this one. Facial scrubs are not a gimmick. We use an abysmal amount of pore clogging products these days and the pollution of our time is exponentially worse than that of our parents' generation. We can no longer claim, "My mother had good skin, hence, so will I." Our mothers didn't subject their complexions to the lifestyles we lead today. The right exfoliant will help counteract the damage you wreak on your face by revealing new skin cells.

Your face wash, lotion and treatments will be able to better penetrate your pores to perform at their best. And those dry patches on your face accentuated by your foundation? With continuous care they'll disappear, leaving your skin looking brighter and smoother than ever. When choosing an exfoliator, we recommend a manual scrub that you can either buy or make. When purchasing, make sure to avoid breakouts by choosing a scrub that's labeled specifically for your skin type (as in dry or oily). Squeeze a little onto the back of your hand to test the consistency. If the grains are too big or scratchy for your hand, your face won't tolerate them either.

If you choose to make a scrub at home, use a base ingredient like brown sugar, sea salt, oatmeal (great for sensitive skin), or coffee grounds. Just be sure to do an allergy patch test on a small area before full application. For dry skin, add olive oil to moisturize your face. Have oily skin? Use honey or lemon juice (careful, it stings!) as a mixer. Counter the liquid with equal parts scrubbing ingredient. The consistency should be thick so it doesn't drip off your face. Wet your face and lightly rub the exfoliant against your skin in a circular motion. Stop before your skin starts feeling raw, the idea is to remove the dead cells, not the fresh skin underneath it.

Wash off the scrub with a mild cleanser and remember to moisturise - exfoliating can make the skin feel dry! Repeat once or twice a week. Over time, you will see less blackheads and clogged pores, and smoother skin. One last thing, the best time to exfoliate is in the morning. when your face is makeup free. However, if this is your first time wait until night as your face may get red. You wouldn't want the local sabzi wala to confuse your face with one of his tomatoes.

Maria Saadat is author of the popular desi beauty site Lipstick Masala.

QUESTION TIME

Do you have a question about make-up? Can't figure out a hairstyle for an upcoming wedding? Do your attempts at smoky eye make-up leave you looking like a raccoon? Have no fear! E-mail your questions and issues to [email protected] and Maria Saadat will respond to them in an upcoming column.

Published in the Express Tribune, May 21st, 2010.
COMMENTS (5)
Comments are moderated and generally will be posted if they are on-topic and not abusive.
For more information, please see our Comments FAQ