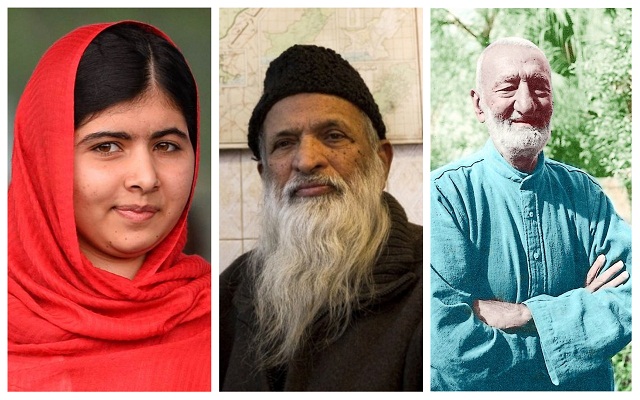 ---
The Vienna Peace Museum in 2014 launched "Peace Heroes" in which they feature personalities that are both historic and contemporary.

For their 2017 edition, the museum introduced Malala Yousufzai and Abdul Sattar Edhi as one of their prominent peace heroes.

"Peace Museum Vienna attempts to conduct peace education through the lives of its Peace Heroes. These heroes include historic as well as contemporary figures, who spent their lives either promoting peace through their profession, such as the sociologist Johan Galtung, or practiced nonviolence as their main strategy for a peaceful life, such as Mahatma Gandhi," the website of the museum reads.

They have an established list of 150 Peace Heroes who are first sent to the PMV board for approval, and they aim to raise the number to 5000 in the next three years. The website includes a popular photo of Malala, clad in a red dupatta, with the description, "Pakistani teenage activist for education for females, survived after being shot in the head by the Taliban for wanting to go to school."

On it's official Twitter and Facebook account, the museum in April announced that their latest addition to the Peace Heroes is Abdul Sattar Edhi, but have yet to include him on their website.


PMV proudly announces Abdul Sattar Edhi as the latest #PeaceHero. Sattar Edhi was a Pakistani philanthropist, and a humanitarian (1)

— Peace Museum Vienna (@PeaceHeroesPMV) April 6, 2017
Sattar Edhi founded the Edhi Foundation which runs hospitals, homeless shelters, rehabilitation centers, and orphanages across Pakistan. (2)

— Peace Museum Vienna (@PeaceHeroesPMV) April 6, 2017
By the time of his death, Edhi was registered as a parent/guardian of nearly 2.000 children. He is known as 'Angel of Mercy'. (3)

— Peace Museum Vienna (@PeaceHeroesPMV) April 6, 2017
Edhi has been nominated several times for the Nobel Peace Prize, he promoted religious tolerance "No religion is higher than humanity." (4)

— Peace Museum Vienna (@PeaceHeroesPMV) April 6, 2017


[fbpost link="https://b-www.facebook.com/peacemuseumvienna/posts/1442697169097851"]

The list also includes many men and women from Asia and the Middle East for their outstanding contribution to the society. The museum also includes Bacha Khan, a Pashtun independence activist, with the description, "Pakistani nonviolent activist, founder of  'Servants of God'  movement, advocated non-violence against British oppression."

Malala's name is included in the same list that features Jesus, Gandhi, Nelson Mandela, Kofi Anan among many other historically significant personalities.


Khan Abdul Ghaffar Khan, @malala featured at the Peace Museum, Vienna pic.twitter.com/PIHLqwyG3D

— Mohammad Taqi (@mazdaki) August 8, 2017
Join our team and share your experience of working for #Peace. @PeaceHeroesPMV pic.twitter.com/ZU7vrmMkSk

— Peace Museum Vienna (@PeaceHeroesPMV) August 1, 2017
COMMENTS (1)
Comments are moderated and generally will be posted if they are on-topic and not abusive.
For more information, please see our Comments FAQ