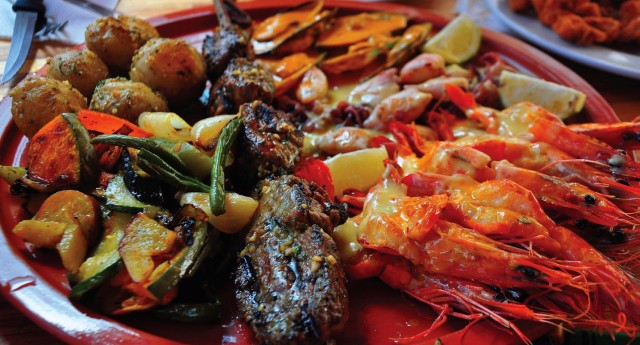 ---
I claim to have a deep respect for vegetarians.

Anyone who chooses to abdicate their position as head of the food chain deserves respect for the humility it takes to descend to the level of herbivores. Of course, secretly I believe it's plain stupidity. There are evolutionary reasons for the food chain and the survival of the fittest is a cliché because it's true. I have never regretted eating a chicken (they are ugly and stupid), but I often wondered if I'd be able to enjoy eating an animal that was smarter, graceful and much, much prettier.

On a recent trip to South Africa, however, I discovered that no matter how magnificent and life-affirming a running springbok may look five feet from my car, it also makes for an incomparably succulent carpaccio. Much of Africa is known for its animals. In South Africa, some choose to watch them in the wild, some choose to eat game and some do both. Local cuisine in Cape Town in particular tends to focus on a lot of hunters' meat — order a traditional hunters' grill at well known African restaurants like Mama Africa or Nyoni's Kraal and you'll be served a platter of beautifully barbecued meat with a local 'starch' on the side.

The owner himself will stop at your table to explain what you are eating - ostrich (chewy), springbok (divine), impala (tender), crocodile (tough) and kudu (plain yum). And if you aren't sure what these animals looked like while they were alive, he'll point them out to you — their heads often adorn the walls. This is clearly how meat was meant to be eaten — viva la food chain. For those who aren't as interested in straight out hunters' meat (although I promise you, no meat is as tender as that of an animal that runs around in the wild all day - sorry Bambi, but yo' mama was delicious), South Africa also offers an incredible variety of sea food.

Whether it is fish or shellfish - it's all incredibly fresh and very innovative. I often think fondly of the 'Angry Mussels' served up at the Victoria and Albert Waterfront, the warm shellfish, each with its mouth gaping wide and sprinkled with fresh spring onions, three kinds of chopped chilli peppers and lemon. Of course, seafood from all along the coast is also found aplenty, with succulent tiger prawns from Mozambique often replacing the local variety with their larger size and juicier flesh.

It's worth noting that South Africa is, after all, the home to the piri piri chilli, and while you may think you know this chilli via its popular grilled chicken sauce, you really haven't met a piri piri pepper till you've eaten one raw in the country of its origin. Sadly, most restaurants make their own sauce fresh and so it is close to impossible to take some home with you — supermarkets seem to be filled with aisles of the chain store variety instead.

But if you're persistent (and really into chilli peppers), you can wander down to Cape Town's historical open market just off the popular Long Street at Greenmarket Square, and find the Afrikaans traders who make and bottle their own sauces. These sauces are often sold in bottles with necks that are wound with wire, like the brass and copper neck rings of the South African Ndebele tribe, and they are made from fresh piri piri peppers, sweet potatoes, garlic and lemon.

They may not be quite the fresh sauces created by the African restaurants, but they're made without additives and are a great deal fresher than those sauces available in supermarkets. And besides, who wouldn't want to buy a bottle labeled 'Zulu Fire' from an old, large Afrikaans woman with the greatest headgear you've ever seen and the nicest accent you've ever heard? Of course, if you choose to simply watch animals instead of eating them, there are a number of options available. The biggest safaris in South Africa are in Kruger National Park, some hours drive from Johannesburg, but bear in mind that none of the reserves will allow you to take a child under six on a game drive with you.

I was disappointed to discover that my two-year-old would hamper my chance at viewing the Big 5 close up and in action in the so called' wild' (it is a park — not the jungle), and so spent much time online before we departed trying to find a way to make it happen for us as a family. But most lodges in the park will make it very clear — if they allow children at all — that your toddler will have to be left behind at the lodge to be taken care of by strangers while you go off on a six-hour game drive.

The lodges in the park are very far from each other, each has little access to emergency services and is many miles from the nearest air strip. Really, it's almost as worrying as taking your child with you and dangling it in front of nature's most dazzling predators. "Bribe someone," suggested one sniggering friend, "it's Africa after all." But South Africa isn't really Africa, after all. It's the tamer, cleaner version — it's the ego, not the id of the continent so shrouded in mystery and misunderstanding that very few of us can claim to know much about all of it.

South Africa may not have the exotic draw of places like Mombassa, the Masai Mara and the Serengeti — names that roll of your tongue to the rhythms of tribal drums and vocal harmonies of the traditional vocal leaders the olaranyani, but cites like Cape Town offer some well-packaged versions of 'wild' Africa as well. If you are travelling with a toddler, as we were, there is the charming family friendly 'tame' safari just outside of Johannesburg, known as The Lion Park.

Here you can play with lion cubs, feed a creaky old giraffe and drive through the 'wild', where prides of beautiful white lions originally found only in certain areas of the Kruger National Park, elegant springbok and impala stride through the cultivated 'grasslands'. These animals aren't hunted so the park is kosher for vegetarians too. Incidentally, just next to the animal enclosures, the park also has space to rent out for 'braai' (local barbecue), with camping sites that are equipped with little grills. Of course, they do insist that you bring your own meat.

Published in the Express Tribune, May 23rd, 2010.