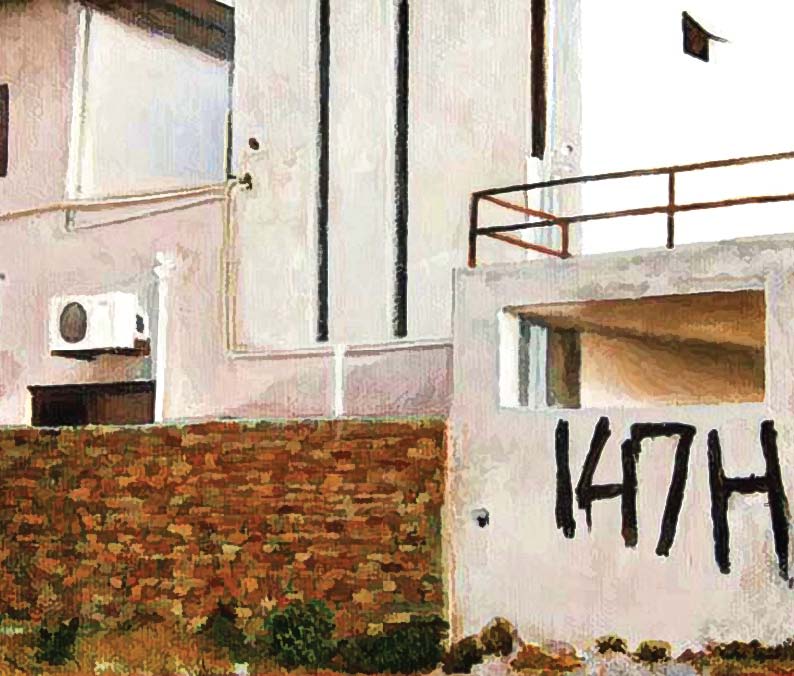 ---
In recent years, Huma Mulji has been most widely acclaimed for her startling taxidermy sculptures.

Her practice is marked by the use of low-grade technologies and a visual idiom derived from her lived experience of the region. One may recall her 2009 study of urban environments, titled Heavenly Heights. Here, Punjab's iconic water buffalo was raised to a height of some 14 ft. It precariously looked down at its viewer, whilst holding fast onto a failed electric pylon.

We believed Mulji's tableaux were now defined by such massed scale. And then Crystal Palace and Other Follies appeared. Held at Gallery Rohtas II, Lahore, this exhibition explores the sense of shelter "within a city coming apart," as Mulji suggests, and the bright gloss of Lahore, as it is put back together again. The show itself is small. Its "construction" materials include mirror, and glass, and finely wrought acrylic sheets. In this fragile space, each of three sculptures moves us towards greater intimacy with the work.

We enter the gallery and find first a fallen minaret. It seems ironically conceived, in the manner of Multani mirror work. At once opulent and tragic in its fall, the cultural form is resolved in sharp cones, attached at either end. We may walk around it, as viewers, with a curious, sinking feeling. Or be struck by the elegant play of lights on its surrounding walls. When asked about the unusual aesthetic effect, Mulji speaks of our cultural ideas of beauty. "I am interested in seeing how far one can push [sculptural] coordinates, until this category becomes something else." "The opposite of beauty," she offers, or that which is unpalatable, even a certain expression of horror.

For this piece, the artist's original references are two images of minarets from war-torn Bosnia. Still a work-in-progress though, "Twisted Logic" leads to other visibly homegrown images. At the far end of the gallery, we find a replica of "model homes" — the kind found at any local real estate office. But, as with the sculptor's sense of craft, this house is built up in flat mirrored planes. Its polished surface breaks and reflects its larger surroundings. In addition, the mirrors themselves are run with crack lines. Down a side wall, or across the terrace, the marks are precisely cut and evident to all. With due drama, the model's tilt is also such that it postures its own forthcoming breakage. Nevertheless, with some measure of delicacy and, quite without shame, the sheltering place continues to dream.

It continues to be itself – "the model home". Titled "Crystal Palace", this sculpture holds forth as exhibition centerpiece. In Mulji's final work, we move to the projection of lazy summer afternoons. This particular sculpture presents an insider's perspective. As viewers, we are invited to look out and onwards. We are invited to dream through imaginary windows. The work is, in fact, a suite of three grille silhouettes. They hang adjacent to each other in diminishing scale. Each laser-cut acrylic sheet is defined by a culturally familiar geometric pattern. The repetitive strength provides, as per real grilles, a place of safety. And then, before our very eyes, the grille lines change.

The foreground hardens. Suddenly there are only imprisoning bars. There is no "outside." Again the perceptual ratios shift. Something nostalgic re-enters the picture plane. As per her earlier work, Mulji's points of departure remain ordinary objects, everyday images. A sense of locality is critical to her vision. Mulji's style of truth-telling makes for unusual heroes. Crystal Palace and Other Follies gives value to the fragile nature of material form. And it pays homage to the work's own persistence, the art work's capacity to retain lived experience.

Published in the Express Tribune, May 23rd, 2010.
COMMENTS
Comments are moderated and generally will be posted if they are on-topic and not abusive.
For more information, please see our Comments FAQ