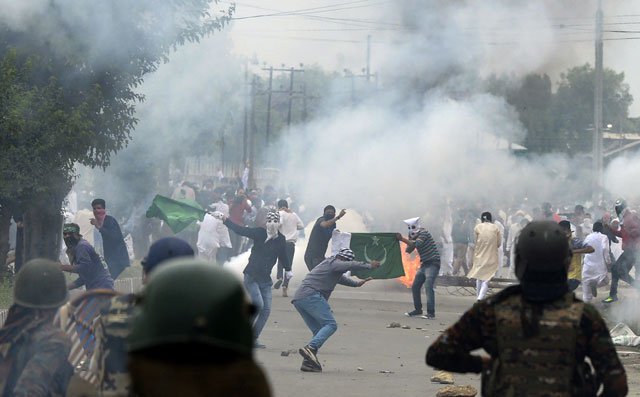 ---
While Pakistanis have been consumed by the Panama scandal, a massive humanitarian and human rights catastrophe has been unfolding across the Line of Control (LoC) in Indian-Occupied Kashmir (IOK). It is not just tragic but criminal that our political leaders, media and civil society have largely ignored this brutal Indian repression of the Kashmiri people, which has now reached new depths of depravity. What the Kashmiris are suffering is nothing less than genocide. As a party to the Kashmir dispute, it is incumbent on Pakistan to take every possible step to expose and prevent this genocide.

The 1948 UN Convention on the Prevention and Punishment of the Crime of Genocide defines genocide as "any of the following acts committed with intent to destroy, in whole or in part, a national, ethical racial or religious groups, as such; killing members of the group; causing serious bodily or mental harm to members of the group; deliberately inflicting on the group conditions of life calculated to bring about its physical destruction in whole or in part; imposing measures intended to prevent births within the group; and forcibly transforming children of the group to another group." The history of Indian occupation of Kashmir since 1948 amply demonstrates that India has been in gross violation of the Genocide Convention. Indeed, it has also been in violation of the UN charter relating to the inalienable right of peoples to self-determination and resolutions of the UN Security Council that it initially accepted, which categorically state "that the final disposition of the State of Jammu and Kashmir will be made in accordance with the will of the people expressed through the democratic method of a free and impartial plebiscite conducted under the auspices of the UN."

Since the Indian occupation of Kashmir on the basis of a fraudulent instrument of accession, which has never been made public, Delhi has refused to allow the Kashmiri people to decide their own future. Instead, India has repeatedly either rigged elections to ensure victory for their puppets or placed Kashmir under governor's rule, thereby disenfranchising the entire Muslim majority. The worst phase in this occupation started in 1990 when a popular uprising against yet another rigged election triggered massive use of force by India to bludgeon the Kashmiris into submission. But as history shows, they have failed miserably in doing so.

The latest wave in the Kashmiri uprising that started in July 2016 after the targeted killing of a Kashmiri youth, Burhan Wani, has not yet subsided. In fact it continues to swell involving even women and teenage children. Since the 1990 uprising, according to Kashmir Media Service, nearly 100,000 Kashmiri Muslims have been killed; 22,000 women have been widowed and 105,000 children have been orphaned. More than 6,000 unmarked mass graves have been found of people killed in fake encounters while 10,000 women have been raped by Indian security forces using rape as an instrument of policy, which was recognised by Amnesty International several years ago. In the latest phase of violence, over 200 unarmed people have been killed and over 20,000 injured while scores of women and children have been blinded by use of pellet guns. The Indian army has also resorted to use of human shields, the most famous case being that of Farooq Ahmed Dar, who was tied to the bonnet of a military jeep and paraded for 25kms and for which the responsible army officer was commended by the Indian army chief no less. The New York Times termed this 'cruelty and cowardice' while the head of Human Rights Watch tweeted that the army chief has "showcased criminal leadership". To demonstrate their anger, the Kashmiris boycotted the latest sham election in Srinagar in which less than 2% cast their votes — a clear rejection of Indian occupation.

To perpetrate their reign of terror, 700,000 Indian troops in the valley have been empowered by draconian laws, especially the Jammu and Kashmir Public Safety Act and the Armed Forces Special Powers Act, which have been denounced by international human rights organisations, the UN and its special procedures responsible for human rights and even members of Indian civil society.

This latest phase of brutality is the result of the toxic mix of Indian chauvinism and Hindu extremism unleashed by Modi's BJP government with support from Hindu bigots like the RSS, Shiv Sena, Bajrang Dal and VHP. Their effort now is to change the demographic composition of Kashmir by encouraging influx of Hindu settlers so that Kashmiri Muslims are reduced to a minority. Modi has even declared the intention of withdrawing article 370 of the Constitution so that even the fig-leaf of Kashmiri autonomy is withdrawn.

While these facts underscore the ongoing genocide in Kashmir, India has exploited the global geo-political environment to prevent international opprobrium. Western powers, in particular, preferring profit to principles, and keen to use India to contain China, have given Delhi considerable latitude. India has also jumped on the West's 'Islamic Terrorism' bandwagon to portray the legitimate Kashmiri struggle for self-determination as terrorism. However, such machinations cannot detract from ground realities. Kashmir is India's bleeding wound. Neither force nor chicanery will overcome the Kashmiri freedom struggle. Meanwhile, the stand-off between nuclear armed Pakistan and India over the Kashmir dispute, with their troops in eye-ball to eye-ball confrontation across the LoC, makes Kashmir the most dangerous place on earth. Eventually India will have to resolve this dispute by recognising the will of the Kashmiri people — for its own sake if not theirs.

Meanwhile, it is imperative for Pakistan to support the just Kashmiri cause by highlighting at every opportunity and in every forum the genocide being perpetrated in IOK. Not only are we bound by our commitment to support the Kashmiris in their hour of need but the goal of security and stability in South Asia depends upon the resolution of this dispute in accordance with the wishes of the Kashmiri people. There is no other path to peace and prosperity in this impoverished subcontinent.

Published in The Express Tribune, August 8th, 2017.

Like Opinion & Editorial on Facebook, follow @ETOpEd on Twitter to receive all updates on all our daily pieces.
COMMENTS (6)
Comments are moderated and generally will be posted if they are on-topic and not abusive.
For more information, please see our Comments FAQ