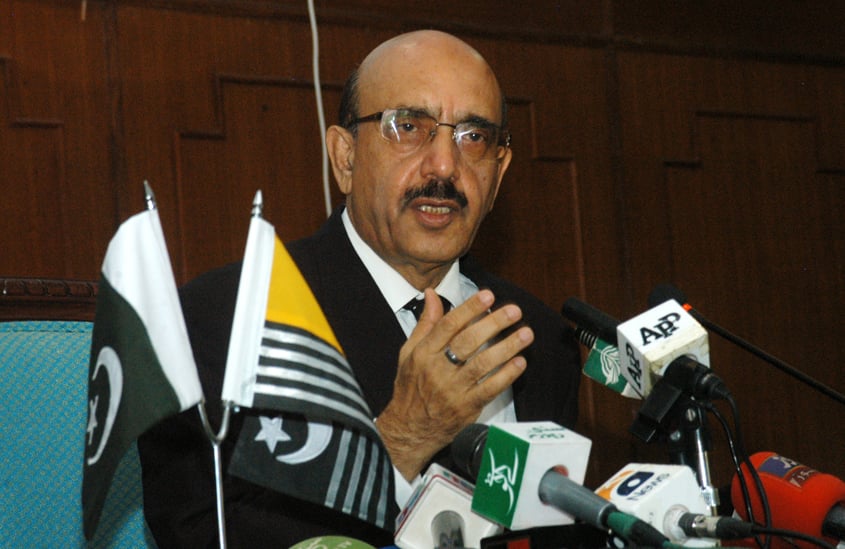 ---
Urging New Delhi to stop changing the demographics of Kashmir, AJK President Masood Khan has said that the systematic persecution of political workers in the held region will not end the Kashmir freedom movement despite India's malicious designs.

Masood was addressing a news conference along with a delegation of British and European Union (EU) officials, including Member of UK Parliament Andrew Gwynne, Member of EU Parliament Wajid Khan, Counselor and Adviser to Mayor of Manchester Aasim Rashid and Chairman Jammu and Kashmir Right to Self Determination Movement Raja Najabat.

Masood said the people of Kashmir are demanding freedom as a right and in no way begging for it. "Come what may they will attain their right to self-determination despite the Indian repression and the international community's inattention", he said.

Indian troops kill two more youth in occupied Kashmir

He appealed to the international community to discard double standards and help speed up the efforts for the rights of Kashmiris. He urged the world to compel India to put an end to their crimes against humanity in the held valley.

The AJK president also appealed to the British parliament to send a fact-finding delegation both to AJK and IOK. He urged them to raise the issue on the floor of parliament through debates and questions.

Parliament, he said, should put pressure on the British government to engage India on the egregious human rights situation in Kashmir. He added that as a permanent member of the UN Security Council, the UK should take a lead in sensitising the members on the deteriorating peace and security situation in IOK and South Asia.

Meanwhile, British MP Gwynne suggested that the Kashmir dispute should be seen as a human rights issue and should not be dealt with as a political one. He said that the world needs to know what is happening in IOK. He also urged the international community to be more vocal and vowed to raise the issue at all forums.

India trying to label Kashmiris' indigenous movement as terrorism: FO

Wajid Khan, while talking to the media, said that the plight of Kashmiris in IOK would be brought up before the EU Parliament.

On the other hand, Aasim Rashid was determined that British local counselors can sensitise the public on the Kashmir issue by talking about it in their respective constituencies.

Raja Najabat lauded the efforts of the Pakistani media, public and government for their consistent support in advocating the Kashmir issue.