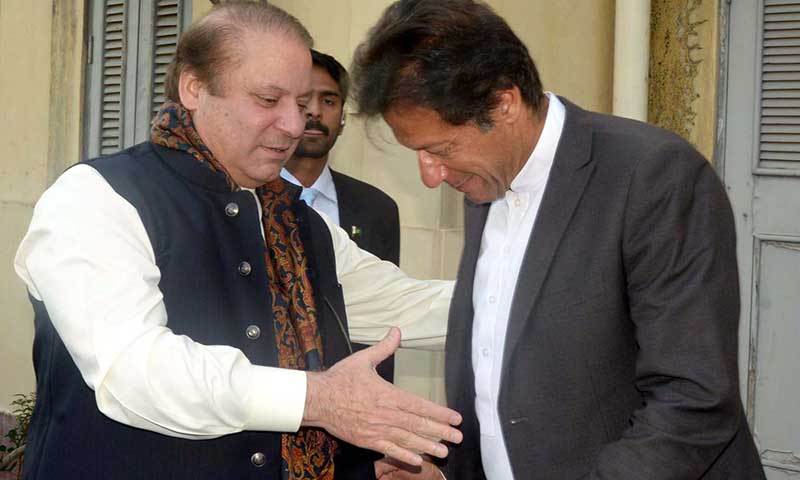 ---
The Supreme Court decision disqualifying Nawaz Sharif and an inquiry by the National Accountability Bureau on his immediate family with the exception of Kulsoom Nawaz had Imran Khan and his party in ecstasy. It was for Khan a moment probably even more glorious than his achievement in cricket when he brought laurels for Pakistan in 1992. Because in many ways he pursued the case with single-minded resoluteness. For in his linear thinking, Pakistan's most challenging problem is corruption and unless it is eradicated from the top only then would Pakistan progress. This got a boost by the favourable court judgment. It also weakened if not demolished at least as of now his most potent political opponent.

Other Pakistanis not necessarily politically associated with the PTI also see merit that no one, not even the PM or his family should be considered above law.

But this excitement may be short-lived, as this is not the first time that political leaders have been removed on the grounds of being corrupt. Starting from General Ayub, followed by Zia that resulted in the judicial murder of elder Bhutto, a highly popular but controversial leader. More recently it was General Musharraf who staged a coup to oust Nawaz Sharif. As foreign papers are commenting that not one civilian leader was able to complete his term.

This time the difference is, it was not the army but through a judicial process that Nawaz Sharif was declared guilty of corruption and removed. It would, however, be naïve to consider that the army was not supportive of the cleansing process. The inclusion of two members of the army in the Joint Investigation Team (JIT) and their critical role during investigations was a clear proof of the interest they had in the accountability of the PM. Besides, inclusion of the army officers in the JIT was a strong signal and source of strength for the judiciary to conduct the trial without fear of any retaliation or remorse.

The choice of Shahid Khaqan Abbasi as interim prime minister from among the close confidants of Nawaz Sharif appears to be a good replacement and augurs well. Apart from being a seasoned politician he brings with him experience as an entrepreneur and familiarity with international finance and intricacies of the global economy. At this time when Pakistan is undergoing a period of political uncertainty and economic challenges the government has to prioritise their attention on these areas. Exports and remittances from abroad continue to decline and foreign exchange reserves have been falling. Even more critical would be handling the security situation, although it has relatively improved, but the threat is far from over.

According to party plans, Shehbaz Sharif once elected to the National Assembly will take over as prime minister. A more sensible approach would be that Shehbaz Sharif continues as the chief minister of Punjab and if the PML-N retains its majority in the next elections he can be elected the PM. Punjab as always remains the key province for winning national elections and it would be a folly to hand it over to Hamza Shehbaz or any of his confidants at this time. It is also likely that the PTI in order to build pressure on the beleaguered PML-N would challenge Shehbaz Sharif's election as PM.

The judiciary and the military have their own in-house procedures and institutions to deal with cases of corruption and malpractices. It would be desirable if the accountability of judiciary and military personnel were more open and compatible with international practices.

The external situation is even more threatening and would require deft handling. India remains on the warpath and the toppling of Nawaz Sharif has not been well received. They realise that further weakening of civilian power would allow the army to take a hardline on India. Whereas this presumption is not correct and on the contrary would prefer to stabilise the Line of Control and focus essentially on the internal threat. The Afghan policy is likely to remain hostile and in tandem with India continue to place blame on Pakistan for providing sanctuary and supporting anti-Afghan militant groups. The US will get an opportunity to press a weakened Pakistan to do more.

The civilian leadership equally shares blame for abandoning its active role in taking lead in formulation of foreign and security policy as the military hierarchy in maintaining its grip on these areas.

Very much would, however, depend on how the political scenario unfolds in future. If the opposition goes for the kill and continues its wild politics, instead of waiting for the people to decide in the next elections a smooth transition, then as past experience reminds us democracy is in danger. All the gains that Imran Khan's movement aimed at to strengthen the process of accountability would be lost. There are serious concerns that this may open additional space for the army leadership to influence foreign and defence policies.

Undeniably, credit to bring the former PM and his family to face law of the land goes to Imran Khan. The inclusion of the five judges in the final judgment will indeed remain controversial. And it would be for posterity to assess whether the inclusion in the final judgment of the two judges who were not part of the subsequent court proceedings did set a correct precedent or not. We already discern that some of the best legal minds have serious reservations about the conduct of the trial and especially how the verdict was arrived.

There are other fears as well as Shaheryar Azhar who runs a prestigious website observed: "The much deeper source of instability would come from fractionalisation and diffusion of political power, if PML-N breaks up." He also alludes to the danger of the rise of extremist forces to fill the political vacuum over time.

Pakistan's long-term stability would largely depend on how its political leaders seize this opportunity to prioritise strengthening institutions and develop a correct balance between them. But if we fail to achieve this then as in the past, state institutions will be pulling in different directions with diverse set of priorities.

Published in The Express Tribune, August 2nd, 2017.

Like Opinion & Editorial on Facebook, follow @ETOpEd on Twitter to receive all updates on all our daily pieces.
COMMENTS (3)
Comments are moderated and generally will be posted if they are on-topic and not abusive.
For more information, please see our Comments FAQ