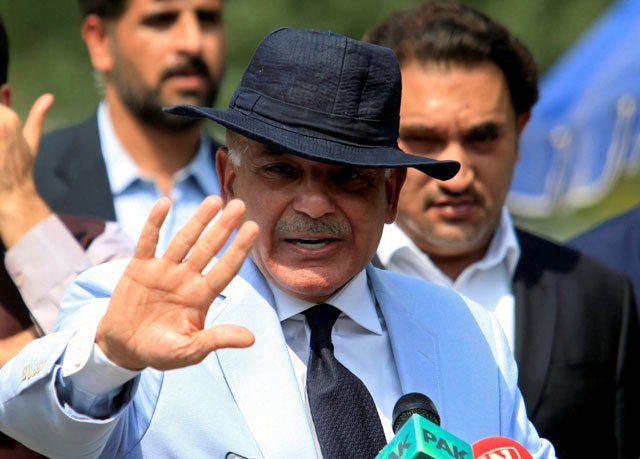 ---
ISLAMABAD/LAHORE: Politics is a family business in Pakistan and ousted leader Nawaz Sharif has looked no further than his brother Shehbaz for a successor, but the prime minister-in-waiting is no carbon copy and is likely to usher in a new style at the top of government.

The ruling Pakistan Muslim League-Nawaz (PML-N) has vowed a smooth transition, with Nawaz loyalist Shahid Khaqan Abbasi to be elected prime minister until Shehbaz becomes eligible to take over by winning a parliamentary by-election expected within two months.

Such an orderly handover would contrast with Pakistan's history of political turmoil and would likely go down well with the military establishment, with whom Shehbaz has been more conciliatory than his elder brother.

Shahbaz Sharif, 65, has been in Nawaz's shadow during their three decades in politics, forging a reputation as a workaholic administrator obsessed with infrastructure mega-projects in Punjab, the family's powerbase that is home to more than half of the country's 190 million people.

The battle for NA-120 is set to be a close one

His hands-on style as Punjab chief minister — peppering officials with WhatsApp messages in the dead of night — has won him admirers in Lahore, a Mughul-era city spruced up with slick highways and manicured boulevards.

"Like it, or not, if you want to work with Shehbaz Sharif, you have to be on the toes all the time," said Athar Ali Khan, a Punjab government officer who has worked with him for a long time.

The Supreme Court on Friday disqualified Nawaz from office over undeclared income and ordered a criminal investigation into him and his family. But Shehbaz's accession is nonetheless almost guaranteed due to PML-N's hefty majority in Parliament, and it adds to Pakistan's long history of dynastic politics.

Pro-Business, Pragmatic

Shehbaz's governing style is in sharp contrast to Nawaz's hands-off approach, but the two brothers espouse a similar pro-business ideology.

Their biggest difference may be in their relations with the army, which plays an outsized role in Pakistani politics and currently controls key areas of policy such as relations with India and the United States.

Analysts say Shehbaz has cultivated better ties with the generals, who cut short the second of Nawaz's three stints in power with a coup in 1999. "It is well known that Shehbaz Sharif is more practical, more pragmatic vis-a-vis the army," said Khaled Ahmed, an author and contributing editor to Newsweek Pakistan.

A game of thrones in Pakistan's dynastic politics

A political source close to the ousted prime minister said Shehbaz believes civilians must grow the $300 billion economy and boost development before they can try to rein in the military establishment. "I have listened to him talk about this... and he thinks it's a matter of decades before the civilians can interfere with the military," said the source.

A less antagonist relationship with the military may bode well for his premiership in a nation where the army has a history of staging coups or helping topple governments.

Tough Taskmaster

Shehbaz's critics say his preference for a small cadre of advisers over elected provincial ministers has limited his popularity within PML-N, and he has never challenged his brother's authority.

Few expect that to change. A senior PML-N source said Nawaz would take a back seat, but would likely still call the shots on major policy issues. "Nawaz's decisions will be final," a senior PML-N official, who did not wish to be named, told Reuters. "But I know Nawaz Sharif and he's just not going to be interfering too much. He's not a micro-managing person."

Shehbaz set to step into Nawaz's shoes

Shehbaz could not be reached for comment. Several aides to Shehbaz paint a picture of a tough taskmaster, berating officials to ensure major infrastructure projects are finished on time.

In May, when a Chinese-built coal-fired power station was built in record time, PML-N took out newspaper adverts to boast of their achievement. A liquefied natural gas (LNG) plant was also built in record time.

Anecdotes of Sharif mocking or lashing out against politicians and colleagues contrast with the deferential approach to his elder brother, a trait common in patriarchal Pakistani families. "His biggest weakness is Nawaz Sharif," said one of Shehbaz's close aides in Lahore.

Opposition politicians who say PML-N wants to turn the nuclear-armed nation in a family fiefdom have begun to turn their crosshairs on Shehbaz, accusing him of corruption and vowing to use the judicial system to bring him down. "This is not a democracy, this is a kingdom," said Imran Khan, leader of the opposition party Pakistan Tehreek-e-Insaf (PTI).

It's official: Shehbaz to replace Nawaz

Shehbaz has filed a Rs10 billion lawsuit against Imran after the former cricketer-turned-politician alleged a source close to Shehbaz offered him a bribe to drop the apex court case against Nawaz.

Wealthy Upbringing

Shehbaz, second of three children of industrialist Mian Muhammad Sharif, was born four years after Pakistan's independence from British colonial rule in 1947.

He joined the family business and entered politics at a time when Nawaz was Punjab's chief minister in the 1980s.

Shehbaz followed in Nawaz's footsteps to become Punjab chief minister in the 1990s, but was exiled after the 1999 coup. He returned from exile to rule Punjab again from 2008, becoming a huge political asset to his brother.

He has also faced corruption allegations but has dismissed them as politically motivated. Analysts said Shehbaz was likely to focus on completing infrastructure projects ahead of an election due in mid-2018, especially power projects aimed at denting daily blackouts that have angered voters.

CM calls Imran 'conspirator' against prosperity

"If he can just make sure that those issues in the power sector are alleviated, PML-N has a very good chance to getting re-elected," said Vahaj Ahmed, a research analyst at investment bank Exotix Partners.

Shehbaz's son Hamza is now being considered for the post of Punjab chief minister, an issue that splits opinion with the party. "We become a serious, mature political party if we find someone out of the family," said the senior PML-N official. "But that may be a bridge too far for us".
COMMENTS (3)
Comments are moderated and generally will be posted if they are on-topic and not abusive.
For more information, please see our Comments FAQ