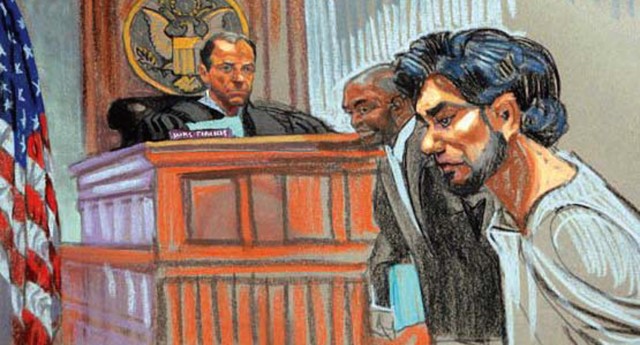 ---
NEW YORK: Faisal Shahzad, accused of planting a car bomb in the New York theatre district on May 1, was ordered to be held without bail by the Manhattan federal court.

Shahzad showed little emotion. Judge James Francis set a new hearing date of June 1. "I order the defendant to remain detained," Francis added. Shahzad did not enter a plea on Tuesday in his first court appearance since being arrested two weeks ago. The Pakistani-born US citizen faces five charges, including attempted use of weapons of mass destruction and attempting acts of terrorism across national boundaries, both of which carry maximum sentences of life in prison.

Shahzad, who wore a baggy grey prison shirt, had not appeared in court since his May 3 arrest and officials said that he waived his right to a speedy hearing. However, he now has a lawyer, Julia Gatto, something that was previously unclear. During his detention, Shahzad "has provided valuable intelligence from which further investigative action has been taken.

The investigation into the attempted Times Square bombing continues," the US attorney's office for Manhattan said. US officials say that Shahzad is connected to Pakistani Taliban insurgents.

Published in the Express Tribune, May 2010.
COMMENTS
Comments are moderated and generally will be posted if they are on-topic and not abusive.
For more information, please see our Comments FAQ