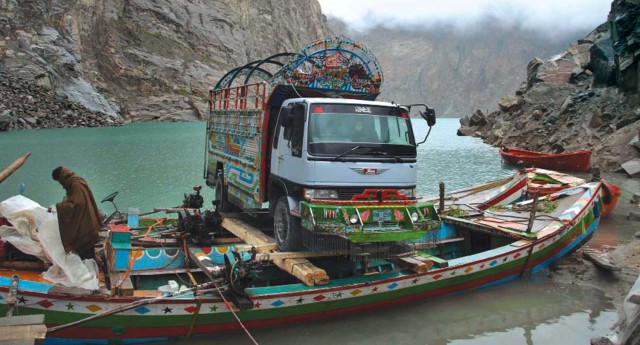 ---
GILGIT: Farman Karim's misery shows no signs of abating. "The January landslide killed my 15 and 17-year-old daughters, my sister-in-law as well as another child.

Two of the bodies are still buried under the rubble," said a dry-eyed Karim, who now lives with his family at a camp set up in Hunza by the government for affectees. The landslide killed 20 people while injuring eight others. And then there were the other costs which have yet to be quantified. "I lost my home, about 60 heads of cattle and dozens of trees – all swept away," mourns Karim. "So far the government is giving us shelter, food, medicine and compensation for our dead and maimed but for how long can we live like this?" The landslide killed 20 people early this year and left thousands jobless in Hunza and Gojal.

The blocked Karakoram Highway destroyed the livelihood of those who depended on cross-border trade with China. Others dependent on agriculture saw their land flooded by the waters of the blockaded Hunza River. Even those who tended livestock for a living are struggling. Having seen many of their animals perish, they refuse to leave their livestock to go live at the camps. While Hunza's assistant commissioner Zamir Abbas says the government is making arrangements for people to move to safer places along with their cattle and sheep, this is yet to happen.

Tahira is a housewife from Shishkat, a village mostly under water now. "I'd want to die in my home instead of leaving my belongings behind," she says. "I'd rather live with relatives here because my children go to school, I have my cattle to tend to". Farmer Deedar Ali is also finding it difficult. The landslide uprooted the small hamlet called Attabad and plunged it into the once fast-flowing Hunza River.

Ali's village Sarat was right next to Attabad and overnight, at least 200 people became homeless. "Around 50 houses in Sarat were fully or partially damaged," recalls Ali. "I've lost so much of my fertile, wooded land to the flood. I used to grow potatoes but where am I to do that now," he wonders. More than 98 per cent land of land in Gilgit-Baltistan comprises mountainous areas.

According to official statistics, just one per cent of land is arable and is used to grow apricots, cherries, mulberries, carrots, cauliflowers, potatoes and spinach in the short summer. Making matters far worse is the fact that most of Gilgit- Baltistan is a single-crop land. If the farmers lose out on the single growing season, they go without income for the rest of the year.

Five months after the landslide, water continues to fill the lake. And while officials say the water is a few meters below flooding, a breach can inundate more than 35 villages downstream. The government says it has a contingency plan in place and most of the vulnerable villages have been vacated. But people like Karim, Tahira and Ali wonder what to make of a life which isn't sustained by anything.

Published in the Express Tribune, May 20th, 2010.