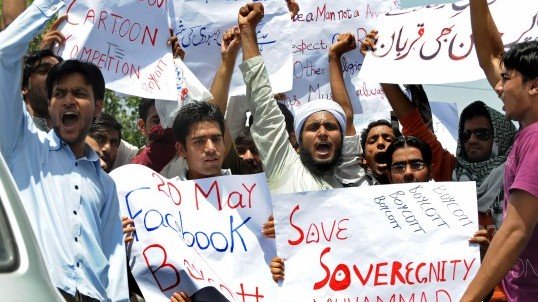 ---
KARACHI: Members of the women's wing of the Jamaat-e-Islami (JI) joined countrywide protests against social networking website Facebook by holding a large protest rally at MA Jinnah Road on Wednesday.

Scores of women demonstrated against the competition of making drawings of the Holy Prophet Muhammad (pbuh) on Facebook. The naib ameer of JI, Professor Ghafoor Ahmed, addressed the rally, saying that the United Nations Organisation and the Organisation of Islamic Countries should take action against what he called a 'blasphemous act'.

The Ummah should not tolerate such profane caricatures of their prophet, he said. All Muslims adore the prophet and every young man and woman can give their lives to protect his honour. JI Karachi chief Mohammed Hussain Mehanti said that the blasphemous competition on Facebook was aimed at provoking the Ummah. He urged the rulers of Pakistan to register their protest on diplomatic fronts. He demanded they ask the US government to ban the competition. Mehnti asked the public to boycott Facebook in order to prove their faith in God and the Holy Prophet (pbuh).

Published in the Express Tribune, May 20th, 2010.
COMMENTS (24)
Comments are moderated and generally will be posted if they are on-topic and not abusive.
For more information, please see our Comments FAQ