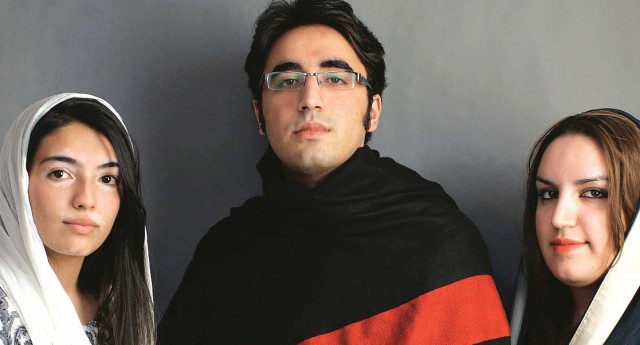 ---
KARACHI: Two years after former Prime Minister Benazir Bhutto was assassinated in Rawalpindi as she was greeting supporters after a rally, her image and memory looms large in public consciousness.

The fourth member of the Bhutto family to have died in little over four decades, Benazir is still remembered by legions of political supporters and the world at large. While reams of words have been written about Benazir since December 27, 2007, she is now the focus of a documentary that premiered at the Sundance Film Festival this January and is being released in the UK in June.

Co-directed by Jessica Hernandez and Johnny O'Hara, the documentary, Bhutto, was filmed in Pakistan shortly after Benazir was assassinated. The sensitive nature of the film, as well as the fact that Benazir's death sent shockwaves all over the world, made for a trying process. One of the film's producers, Duane Baughman, spoke to the film website indieWIRE. com. Baughman said, "A few days after her death I approached her friend and adviser, Mark Siegel, about bringing her story to the screen.

Two months later, I was sitting in what had been Benazir's living room interviewing her heartbroken children and husband." Siegel was one of Benazir's friends, and was quoted extensively after her death since she had told him that she would blame the existing government if she were assassinated in Pakistan. Siegel co-wrote Benazir's last book Reconciliation: Islam, Democracy and the West, and had known her for 25 years.

Baughman talked about what the audience at Sundance could anticipate from the documentary. "It's the closest most audiences will come to being there: both in Pakistan, and in the hearts and heads of Benazir Bhutto's family who gave us gut-wrenching recollections of their mother just two months after she was assassinated." "It's that sense of immediacy and freshness that's so visceral and painful-especially when you see and hear Benazir's kids - that can never be captured again." Benazir Bhutto's life has been the subject of endless speculation, several books and articles and hours of television programming.

But a feature film on her - or any other Pakistani politician for that matter - has never been made. The documentary Bhutto, which includes interviews with family members as well as writers such as Tariq Ali, received favourable reviews when it premiered at Sundance. But will it be able to capture the elements that made her life such a conversation starter?

The political intrigue, public appeal, family tragedy, power, money, countless allegations and her own dynamic personality would make for a powerful script. A feature film would end up doing it justice and given the number of reports there are about a film on Benazir's life, one can hope to see a more indepth account soon.

Published in the Express Tribune, May 20th, 2010.
COMMENTS (2)
Comments are moderated and generally will be posted if they are on-topic and not abusive.
For more information, please see our Comments FAQ