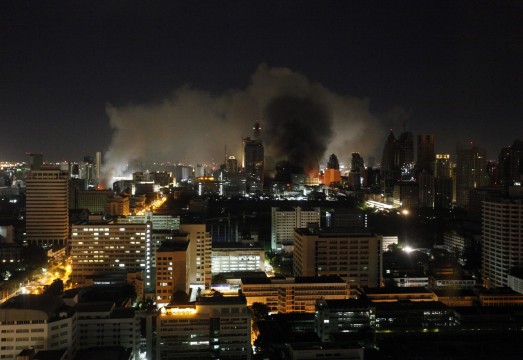 ---
BANGKOK: Enraged protesters looted and set fire to major buildings in Bangkok, including the stock exchange, after a deadly army crackdown Wednesday on an anti-government rally in the Thai capital.

Black smoke billowed across the skyline in the aftermath of the  military assault on the "Red Shirt" camp which left at least six people dead, including an Italian journalist, and forced their leaders to surrender.

While most demonstrators dispersed, some militant protesters went on a rampage and set fires at 20 locations in Bangkok, an act that prompted authorities to declare a curfew across a third of the country.

A helicopter was dispatched to help rescue at least 100 people trapped in the offices of the Channel 3 TV station after it was attacked and set on fire, rescue services said later all had managed to escape without serious injury.

Major blazes were also reported at Central World, one of Southeast Asia's largest shopping centres, the Stock Exchange of Thailand, a downtown cinema and several banks.

The government imposed an 8:00 pm (1300 GMT) to 6:00 am curfew on Bangkok and 23 other provinces, out of a total of 76, in a bid to control the eruption of violence, while admitting that parts of the capital were still outside their control.

The latest unrest began when armoured vehicles backed by armed troops firing live rounds smashed through towering barricades made of tyres and razor wire that the Red Shirts had erected around their sprawling base.