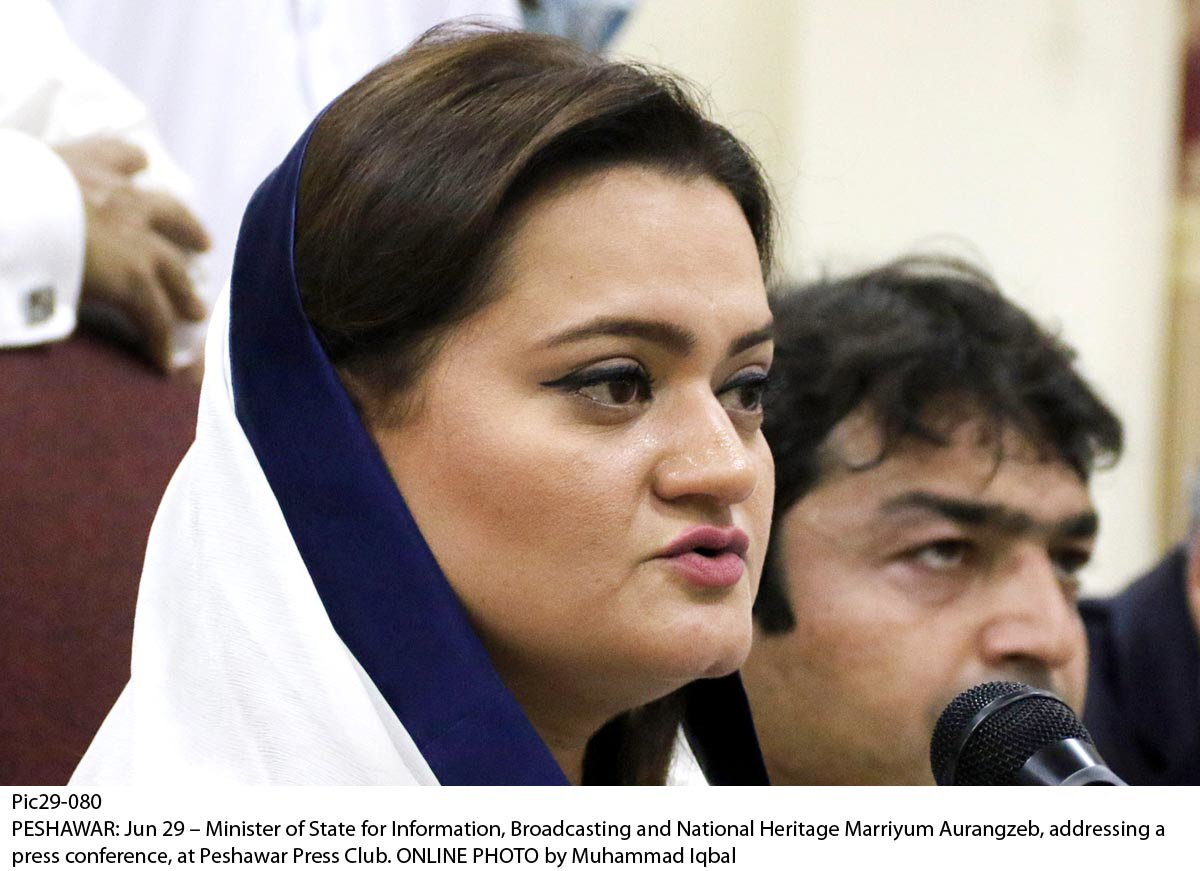 ---
PESHAWAR: Minister of State for Information Broadcasting and National Heritage Marriyum Aurangzeb has said that giving Imran Khan a chance to form government in Khyber-Pakhtunkhwa (K-P) was the biggest mistake of Nawaz Sharif's entire political career.

She said this while talking to media at Peshawar press club on Thursday.

"Nawaz Sharif admits it as a biggest mistake of his whole political career to give Imran Khan and his party a chance to form government in K-P," said Murriyum. "In K-P, people are even deprived of their basic human rights under the rule of PTI."

Murriyum said that Imran Khan should be thankful that Nawaz Sharif gave him an opportunity to form a government after the 2013 elections

"Imran Khan's entire political career revolves around a hospital and a cricket world cup," she said.

Maryam Nawaz calls Imran Khan a 'liar'

According to Marriyum, Imran Khan demands accountability from the government when he himself locked the K-P Ehtesab Commission only because it was questioning his ministers.

She also criticized the Tsunami project saying that not even a single room has been constructed in any school.  Recalling Imran Khan's promise of constructing 350 small dams, she said so far no dams have been constructed and not even a single megawatt of electricity has been produced.

"Imran Khan has only deceived the public by his false promises and hence the public has rejected him," claimed the minister.

She said that it is because of the polices of the present government that there has been a reduction in terrorist activities in the country. However, she said the National Action Plan which has played an important role in eliminating terrorism from the country has been politicised.

K-P head of the Pakistan Muslim League-Nawaz Amir Muqam and other leaders of the party were also present on this occasion. Muqam while talking to media said that there are two types of terrorists in the country, those who target the innocent people and those who create hurdles in the way of implementation of developmental projects.  He added that the only purpose of such people is to derail the development process in the country.

Ministers hit out at Imran Khan for 'persistent lies'

Muqam said that Khyber-Pakhtunkhwa has no system of accountability and it lacks ability to carry out any development work.

Marriyum said that social media is being used to give sectarian colour to terrorist attacks in Parachinar. "The spate of violence is being associated with sectarianism and an impression is being given that a special sect is being targeted."

She said that even the compensation package announced by Prime Minister Nawaz Sharif has been made controversial and a campaign was started against it on social media saying that the package announced for the people of Parachinar was far less than that announced for the victims of Bahawalpur tragedy.

She said that the prime minister has announced another compensation package for the victims of Parachinar attack. "We know that they are facing a lot of difficulties in Fata but the prime minister has planned various projects which will be launched soon to bring prosperity in the tribal areas."

Marriyum said that efforts are being made to introduce a new law for the protection and welfare of journalists. She said that after the 18th amendment, the responsibility to form such laws came under the provincial government but in the absence of any efforts made, the federal government decided to come forward and play its role.